Your New Website Has Launched, Now What?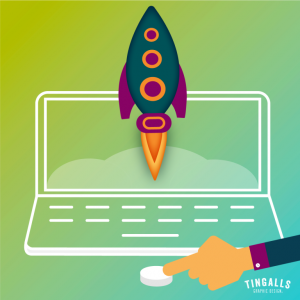 You just launched a new website for your small business … good for you! You're feeling fantastic and just want to check that off your to-do list, sit back, relax and let the customers roll in …
If only it were that easy!
Long gone is the mentality "if you build it, they will come." You wouldn't expect a hammer to work if you just left it in the toolbox, would you? Just like that hammer, your website relies on you to put it to good use. It took a lot of planning and strategizing to get the look and function you envisioned for your website. Now is the time you need to roll up your sleeves and put all those efforts to work.
The truth is, a website is not a "set it and forget it" investment. It's about executing a strategy that both attracts an audience AND meets the dynamic nature of search engine algorithms.
Here are a few essential recommendations you can execute to attract an audience to your new website:
1. Activate Your SEO
A good web designer would have included search engine optimization (SEO) elements into your site's design. When SEO is done right, it gives your website the ability to be read easier by search engines and help it rank higher in search results. Most website owners understand the basic concepts of SEO and why they want to consider it as part of their plan, but some don't understand that it's no longer just "behind the scenes" or "a magical quick fix."
2. Customize your Keywords
Keeping your website's keywords current and unique as well as your site up to date with best practices for search engine friendly content will be an ongoing maintenance issue for you from now on. Most website owners will perform an audit on their site yearly to review that all aspects are up to date and still working for them. Using this keyword checklist is a great place to start.
3. Submit Your Website to Web Directories
Web directories will help get your site found by users searching within your location. They are also used by search engines to scan your business's address, phone number, etc. to determine whether you're a legitimate company or not. Remember that there are many specific niche directories out there too. It's well worth the time it will take to do a little research in your industry to find them.
4. Make Social Media your Friend
In today's age, where social media is everything, you should be sharing your website links across all your social channels and posting content regularly. If you'd like to take it up a notch, you could even invest in pay per click social media advertising on sites like Facebook or LinkedIn. Don't forget to utilize hashtags to your advantage, as well as alternative text on your images.
5. Interact with your Audience
If you want to build a community and strengthen your brand along with it, then a great way to do that is to engage your audience. You can either create a page on your site for a forum or include a comments section on the pages you already have. It will encourage your viewers to think about topics and will increase engagement. You could also do this on social media. Both of these actions will start a conversation and help you learn more about your customers and what they need.
6. Post Valuable New Content
How often you decide to update your site's content depends mostly on the type of website you have. It's important to maintain your site and keep your content fresh, so you stay one step ahead of your competition. We recommend checking if your current webpage content needs updating every six months to a year. Of course, adding regular, fresh content through blogs, news items, videos, or downloads more often than that creates a way to offer value to your customers and brings new visitors to your site too! Click here for 15 great article ideas to blog about  >>
7. Market your website – A LOT!
Your website should go everywhere you go. It should be part of your email address, on your business cards, and all your marketing material. You will want to mention it to your neighbors, local businesses, the chamber of commerce, and all the local clubs or organizations you are involved in. If you want to really take it up a notch, creating an awareness campaign through traditional or digital marketing could be a terrific investment as well.
Worried your new website won't gain traction? We can help!
It's not necessary to have a large, complicated website if you're a local business. Instead, your website should offer quality, security, and a great user experience. Your website audience will grow when they see that you are engaged and that your site is friendly.
If you own a small business, Tingalls Graphic Design is an excellent option for you. We can help whether you want to update your current website or start fresh with a new build. Contact us today to learn more or get a quote!