Why Your Business Needs to be in a Web Directory
What is a web directory?
Simply put, web directories are today's yellow pages. And just like today's yellow pages, people don't often go to them first for their informational needs anymore. Which means, you might dismiss the idea of listing your business on one. Why go to the trouble of signing up for and entering all the information, photos, etc. to an online directory when most people just go to Google anyway? The answer is more involved than you may think. Today's web directories, as it turns out, play a more critical role in online search then is at first apparent.
Search engines like Google, Yahoo, or Bing use several ways to scan your business and determine where you'll show up on their SERP (search engine results page). They gather information from your website using not only your website content but also internal and external links on and to your site, relevant online reviews, AND the data from online directories. If your business shows up within credible online directories with correct, consistent information, then those search engines get a positive signal that your business is the right choice for its search results.
So now that we've opened the Pandora's Box of web directories, you'll discover that there is a slew of them out there to consider. So, your next question will probably be: What web directories should I use? The answer to that question relies on the type of business you have and the audience you would like to include. You may want to break it down into general categories that will consist of the audience you are trying to reach to find the best fit like:
Local
Industry specific (B2B)
General
Niche
National
International
How and what you should add to all the essential directories
If you're ready to jump on the web directory bandwagon, the major one you'll want to include right now is Google My Business. You will also want to include some of the other biggies like Bing Places, HotFrog and yes, YellowPages.com. At the very minimum, include your name, address, and phone number (NAP) to each one and make sure it is correct and consistently written the same. For example, if you include your suite number on one and spell out suite – make sure to do the same thing for each listing, or those listings won't be seen as the same listings. Varying listings will confuse the search engines, and you won't get the desired results. Also – remember to add your details to the directories of any local clubs or organizations you are a member of too.
Once you have decided what directories to use, you have two options. You can create each entry yourself and make sure you remember regular maintenance and updates, or you can use a web directory service. These fee-based services let you enter your information once and then populates all relevant directories consistently and accurately (based on your given information) then sends you reminders when it recognizes any changes. Along with your address, you'll want to include social media links, business descriptions, email, and images to get the most out of each online web directory.
More about Google My Business
As we mentioned earlier, Google My Business (GMB) is the leading player in the web directory arena. It is Google's free web directory tool. And it can display a lot more than just your business address. When a person searches for your business on Google, the information used in your GMB profile will be pulled from your Google My Business page and shown in the search results page.
The results when searching for 'graphic designers' on Google come from our Google My Business page. Because we listed Tingalls Graphic Design in GMB, we can be found on Google Maps, Google's Side Bar, and Google's Local Results. This makes it super easy to search for us and gives a quick way for prospective customers to interact spontaneously.
Google's Sidebar
The Sidebar is where the interaction between a prospective customer and a business can begin. Here they can save the map, send it to their phone and also rate the service. As a business, this is invaluable. It is also something you need to be on top of at all times. You'll be notified when someone posts a question or comments, so make sure it is part of your process to react quickly.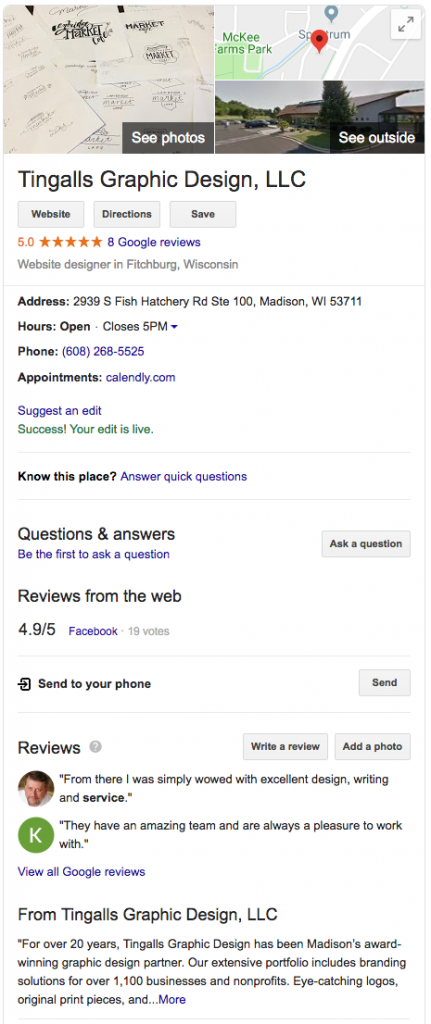 Local Results
This section of Google's search results shows the three like businesses nearest to your current location. Your information can also display in local results when someone searches keywords related to your business. The image below shows Tingalls' address, description, category, reviews, and pictures. It all comes from our Google My Business page.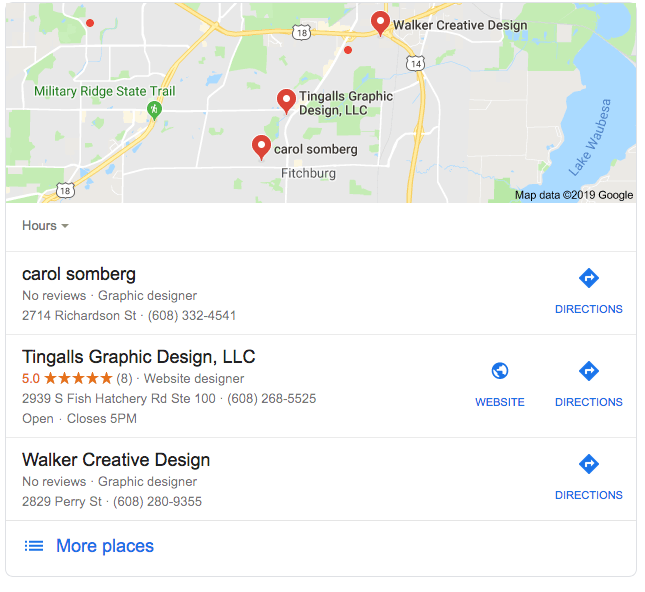 What if I get a negative review?
If you feel you receive an unjustified negative comment, Google allows you to state your case and will take it down if they agree its intent was malicious. If it is just a bad review because of a customer's opinion on bad service or product – you won't be able to remove it. But you can get ahead of it by interacting with a dissatisfied customer as soon as possible and hopefully, turn their opinion around.
 Can I get some help?
Your website can do a lot to transform your business, but it's up to you to keep up with all the tools you need to keep it on top of the pack. At Tingalls Graphic Design we can help you not only create a fantastic looking website, but we can also design images, icons, and logos that will make a memorable impression so the next time you pop up on Google My Business, you'll get noticed! Have more questions? Contact us for answers on Google My Business or any other web-related issues.