Web Design and SEO Done Right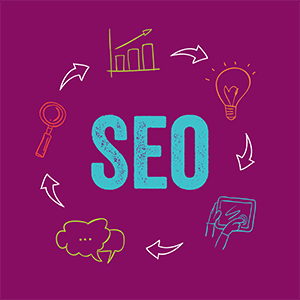 Web design is crucial in the look and feel of your website but creating an online presence takes more than just good looks. Your Madison business' website needs to drive traffic to be successful.  Today's sites must offer visitors an easy way to view and understand your products as well as attract potential customers. In other words, the goal of your website must be to be seen! Driving more traffic to your site means your business benefits from all the hard work that went into it. Often, however, an essential element is overlooked in the web design process – search engine optimization (SEO).
What is SEO anyway?
SEO sets your website up so that it can be found by internet users that rely on search engines. SEO can mean the difference between ranking high on the Search Engine Results Page (SERP) or not even showing up. Unlike pay per click (PPC) advertising (think GoogleAds), SEO works on results from using search terms.
If none of the above sounds familiar, it could be time your website went through an SEO audit. An SEO audit guides your site in the best direction to ensure you're maximizing your impact including:
A technical direction – looks at how fast your website is loading; researches your internal and external links; optimizes your site for crawling and indexing phase and addresses any lingering technical difficulties.
A commercial direction – this part looks at your website from a neutral third-party perspective. It ensures the user experience is the best it can be by testing the processes of your site and flow from your customers perspective.
An aspirational direction – Having a plan in place to keep your site on track and prepare for future growth is essential. Long term success in SEO means staying on top of it and knowing how to be proactive. It's a crucial process that should be performed on your site annually.
SEO Audit at Tingalls
Tingalls Graphic Design, located in Fitchburg just outside Madison, Wisconsin, can help. We offer a website audit package that will help you find and fix on-site issues you may not even know you had. With this package, the Tingalls team will review 3 of your top website pages and analyze the factors that affect your website's impact on your customers. After the audit, you'll discover ways to bring a larger audience to your site and boost your ranking.
Your website will be analyzed for:
Critical website factors (page load time, call to action, content, etc.)
User experience design (visuals, layout, navigation, color and more)
Content Optimization (industry keywords, alt images, title, headlines, etc.)
Your audit will be presented in an easily downloadable PDF format. Recommended action steps to take and SEO best practices are included.
Contact us today to learn more.