The Problem with "Bargain-priced" Services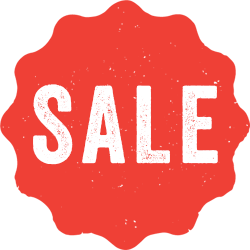 No matter what type of business you have, or type of work you do, you may be faced with a critical question: do you discount?
Whether it's a discount house like Groupon, 99Designs, or simply running a "special" on your website, discounting services or products is something that requires much consideration.
Why? Because it can have negative long-term affects on your business, your bottom line — and your reputation. Let's examine when a discount may be a good idea, and when it should absolutely be avoided.
In a retail environment, sales are part of the natural selling cycle. But even here, retail shops have undermined themselves by starting sales earlier than they used to. Do this once, and customers expect it again. When this happens a store's window of selling product at full price shrinks.
But for the purpose of this article, let's focus on year-round services like the ones offered at Tingalls Graphic Design. We offer web and print design, logo design, graphic design and copywriting services — to name a few — at a fair price. Our pricing is the same year round, and we don't offer discounts. But we sometimes hear about the "deals you can get," from companies like 99Designs, which is essentially a creative discount house.
Although using companies like this for one's design needs can save a business money in the short term, what is the long-term cost? Is the design unique, engaging and representative of the company it was created for? Does it evoke trust or peace of mind? Will it help convince customers that the business is an awesome brand? And last, but not least, will it stand the test of time?
Remember, you typically get what you pay for, and a cheaper design doesn't necessarily mean a business owner is doing their company any favors. For example, we can buy batteries at the dollar store for 99¢, but they're not going to last long. Or we can spend $10 on rechargeable batteries, and we'll probably never have to buy them again. The same is true of the quality of a design.
There's also the question as to what this type of price slashing does to the design community in general. In order to perform top-quality work, designers, writers, musicians, contractors, etc., need a certain amount of time to deliver their best. Putting a professional in a position of competing at discounted rates is not sustainable. Something's got to give, and it's usually the quality of the work, which becomes rushed just to make ends meet.
So, if you're a fellow creative, think twice about discounting your price to compete with the 99Designs of the world. Remember, those firms are a dime a dozen (pun intended). Instead, focus on giving your clients' outstanding work, and most of them won't mind paying full price (as long as it's fair). Once we set the expectation of cheap prices, like the retail shop, we make it harder and harder to run a sustainable business that is healthy enough to experience growth.
If you're a business looking for design services, take a look at what a local firm like Tingalls Graphic Design can do for you that you won't find at a discount design house.
If you're not sure what the differences would be, feel free to contact us to set up a complimentary meeting to discuss your needs, your business goals — and gain a clear understanding of how we can be of assistance.