Save Time & Money: Hire a Designer!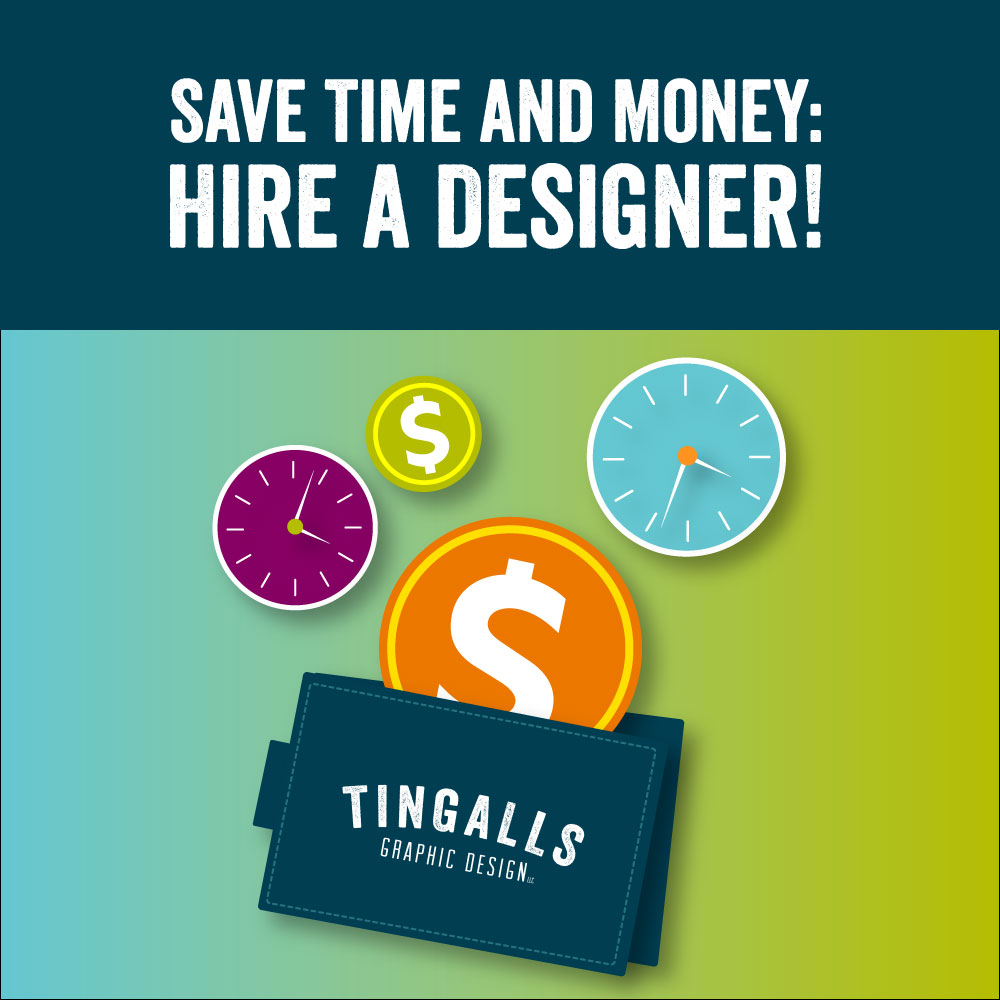 Good logo design requires creative expertise. It can be tempting to purchase a cheap design from an online logo maker, especially when you're starting a new business and on a tight budget. But these designs tend to be very generic and there is a high probability that another business will be using the same logo. Investing in a quality logo design for your brand right from the start will save you time and money in the long run. A graphic designer will be able to work with you to determine what sets your business apart from your competitors. Equipped with this knowledge your designer will be able to craft a logo that appeals to your target audience and helps you stand out from the crowd.
Here are four reasons why you should hire a graphic designer for your logo design:
Save Time
Running a business is a ton of work and your time is at a premium. Would your time really be well spent trying to design your logo, stationery, and marketing materials? A graphic designer knows all the pitfalls of the logo design process and how to avoid them, resulting in a much more efficient process. At Tingalls we can design 7-10 unique logo concepts in less than a week. On average our clients are walking away with their brand-new custom logo within 10 business days.
Save Money
Let's say you choose a five-color logo from an online logo maker. Do you know what it costs to print in full color versus 1-2 colors on paper, clothing, or signage? Do you know what terrible face the print shop employees are going to make at you when you come in with a Microsoft Publisher file? When designing your logo, Tingalls' graphic designers will consider more than just the initial design. We will think about the applications of the logo and what future costs you may incur when it comes to printing or embroidering your logo. We will also provide you with a variety of properly formatted graphic files that will make all your print projects a breeze.
Stand Out from the Competition
Thanks to social media, people are bombarded by advertising for hundreds of different brands every day. Having a logo that is unique and memorable is crucial in building your customer base and maintaining brand loyalty. Color, shape, size, typography, and overall "feel" are things that an experienced designer will consider when developing your unique logo. One of our most popular services at Tingalls is our Logo Design Creative Package. This service includes a logo usage guide that details what fonts and colors were used in your logo. By sharing this guide with your vendors and other team members you can make sure your business is keeping a consistent brand voice.
Get the Results You Want
You've probably got a million ideas of what you want your logo to look like, but if you aren't an artistic person it can be difficult to convey your vision. Or maybe you fall on the other end of the spectrum and have no idea what you want your logo to look like. Either way, Tingalls can help! All our logo design projects start with a design kick off meeting. We discuss your likes and dislikes in terms of colors, fonts, and iconography and ask a comprehensive list of questions to determine what feelings and emotions you want your logo to evoke. With our Logo Creative Package, we use all this information to conduct a brainstorm session with our entire design team. This means you get the creative input from not just one designer, but four! Our goal is to provide you with a variety of logo options that not only look the way you want but will also help you achieve the goals of your business.
Your logo isn't meant to do all the heavy lifting for your brand, but it is the first thing potential clients will notice. Hiring a graphic designer for your logo design ensures that you make a lasting first impression that gets your business started off on the right foot.