8 Most Common Graphic Design Questions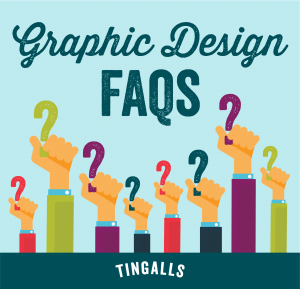 Graphic design is full of large ideas and big concepts. We've put together eight of the most common graphic design questions direct from our designers. We hope it helps you understand what design means to you and your marketing efforts and what it's like to work with a graphic designer.
Common Graphic Design Questions
#1: "Can you use the logo from my website?"
When we work with clients for the first time on a design project, we ask you to supply your logo as an EPS file, as this is the native design file. The logo on your website is in a jpg or png format specifically to work best for the web – this means it will be pixelated or grainy looking if we try to make it larger. An EPS (Encapsulated PostScript) file is the standard format for logos and doesn't lose quality when enlarged. 
#2: "What happens if I want changes to my design?"
At Tingalls Graphic Design, we have an extensive design kick-off meeting to learn about you, your company, your clients, and expectations for design. That said, it's unreasonable to think your project might not have one or two small tweaks, which is why we include a few rounds of revisions to polish the look of your piece. But, if you don't make revisions, you're not billed for that time. 
#3: "How long does a graphic design project take?"
Our extensive client intake questionnaire and design input meetings gather all the necessary details upfront, so we're able to offer initial designs in 5 business days or less. From there, we refine the idea and produce a first draft that goes back to you for approval.
#4: "Can you design my project in Word?"
Although our clients widely use Microsoft office suite, it's primary purpose is word processing, not page layout. Our design team have art degrees and use software programs specialized for our industry. These programs give us the full range of design capabilities including Adobe InDesign for page layout, Photoshop for photo manipulation and cropping, and Illustrator for logo design and illustration. All three of these software platforms work in harmony to create even the most simple projects for our clients.
#5: "Can you take care of the printing too?"
Throughout the past 20 years, Tingalls has solidified partnerships with many local printers and sign companies to print our projects. From simple business cards to robust tradeshow displays, our vendors not only provide exceptional quality but also offer preferred pricing, saving our clients time and money. 
#6: "Can you get design this for free?"
The entire team at Tingalls believes in sharing our talents. As a result, we provide hundreds of hours of pro bono work each year to local non-profits through our Giving Tree Program. If you qualify for the program, we'll be in contact to outline your needs and goals so we can provide you with an individualized quote. Outside of that, we can recommend ways to save costs and work within your budget. And, stay tuned, in 2020, we'll be providing four quarterly $2500 rebranding grants to local nonprofits in Dane County!
#7: "Do you design websites I can edit myself?"
The answer to this question is a resounding, yes! In fact, we've received InBusiness Magazines Executive Choice Award for the best website development company five years in a row. We primarily work in WordPress but have also streamlined the program to provide editing tools that are super user-friendly for our clients. Please ask for a demo.
#8: "I really want to work with you! Is it expensive to get started?"
Not at all. Tingalls offers marketing solutions for budgets large and small. Even if you're just starting out or a nonprofit with limited means, we can help streamline your brand and make it pop. The best way to start the process is to reach out for a complimentary phone consultation – www.Meetingwithtara.com.