Build Your Own "Marketing Strategy" Burger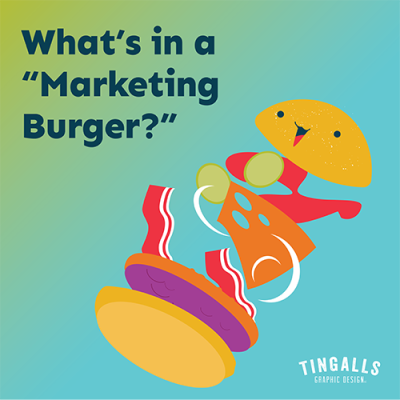 "What's your current marketing strategy? And what fixings do you like on your burger?" The two ideas, your marketing strategy, and your hamburger lunch might seem completely unrelated, but let us explain …
No "One Style Fits All" Approach
A recent ad campaign by a well-known fast food chain announced to its royal subjects that there are 200,000 ways to enjoy their most popular-selling sandwich. Now, each variation of the sandwich might be a different price, whether the individual wants it plain or with "the works", but the point is that the consumer can get the sandwich with the exact toppings they like. They're not restricted to a "one taste fits all" experience. The same is true about your business' marketing strategy.
To Best Decide, Know Your Options
Come with us and let's head to the patio to fix up that burger for you. Picture this: On the patio is a table with an enormous, opened, shade umbrella; we'll call that umbrella, "Marketing". On the table under that "Marketing" umbrella (in the shade to stay cool and fresh) are all the toppings and condiments available for your burger. There are:
Ketchup and mustard – for this example, we'll dub them "Graphic Design" and "Web Design";
Pickles and cheese – we'll call those "Print Collateral" and "Content"; and
Onions and bacon – let's go with "Online Directories" and "Branding" for those.
Now that you know what options you have to select from, based on your preferred tastes you're now able to make the decision which garnishments you'll choose. Simple and you got a burger you'll enjoy!
'Lettuce' Help You!
Our example of burger toppings only highlighted a few of the marketing options you can choose for your business. Thanks to today's technology, avenues of commerce, and forms of communication, there are at least 15-20 different marketing options including the ones we mentioned previously. We understand if that feels overwhelming! That's why having a consultant such as Tingalls to assist you in building your marketing strategy significantly helps to achieve the best results for your investment, narrowing down the options to what will best serve your business.
Take the First Step to Fire Up the Grill!
Contact us to engage in Coaching Program. We'll arrange a Kick-Off Meeting together, where we'll review what you've been doing, and develop three solid, attainable marketing goals.
Next, we'll do a deep dive together, discovering where your company is unique with regard to People, Processes, Pricing and Products.
In our third session, we'll narrow down to your precise Target Audience, creating a consumer profile, which will guide you in your decisions on how and where to market your business.
It's time for Campaign Design & Deployment, implementing the strategy we've collaborated with you.
After 30 days we'll sit down with you for a Campaign Results Review, to check how things have been progressing towards your goals and what tweaks need to be made for the next 30 days.