Consistency: Your Key to Social Media Success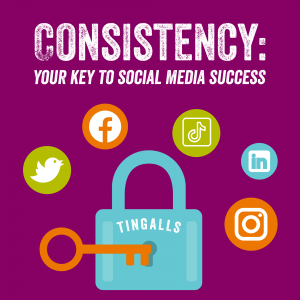 We all know the old saying: "out of sight, out of mind." This is especially true for small business owners trying to break out from the crowd. If your potential customers don't see you, how will they know you exist? Love it or hate it, social media is the easiest way to get your brand noticed without spending big bucks on advertising.
When it comes to social media marketing, consistency is key. This means both consistency in how often you post content as well as consistency in your brand's tone and style. Committing to a regular social media strategy not only helps create a better customer experience but it also helps build credibility and brand trust.
Here are our Top 5 Tips for Staying Consistent on Social Media
Establish a brand standard. This usually starts with your logo and can be built upon from there. Decide on colors, fonts, illustration styles, and photography that you want to use for your brand and use them consistently. Not sure where to start? Tingalls can create a Brand Guide to help you hit the ground running! Request more info>>
Create a content calendar. At Tingalls we use a Google Sheet spreadsheet that is shared with our entire staff. We have a system for labeling what kind of content to post on certain days as well as for denoting when a post has been scheduled on Facebook, Instagram, etc. This keeps our team on the same page and prevents double-posting of content.
Decide how often you want to post and what kind of content you'd like to share. Would your products or services be easier to showcase in a video or a static post? Answering these questions will help you determine whether to post in your feed, in Stories, or Reels.
Dedicate a couple days a month to social media content creation. It might sound like a daunting task but working on a few weeks of content in one day will save you time in the long run. Apps like Canva make it easy to create templates that can be reused. This saves time and helps with maintaining the look of your brand.
Learn from your audience. Develop a system for tracking what days and times your posts get the most engagement. Use Google Analytics to track how much traffic your website is getting from social media. As you post on social media you will also find yourself developing relationships with your audience. Pay attention to questions they ask or topics they're discussing and use this information to help you plan future content.
Ready to learn more? Join us at the Tingalls office on Thursday, July 28th from 11:30am – 1:00pm for a Social Media Content Creation Workshop. Sign up here>>