Safeguarding Your Small Business: Tingalls Comprehensive Checklist for Choosing a Trustworthy Digital Marketing Partner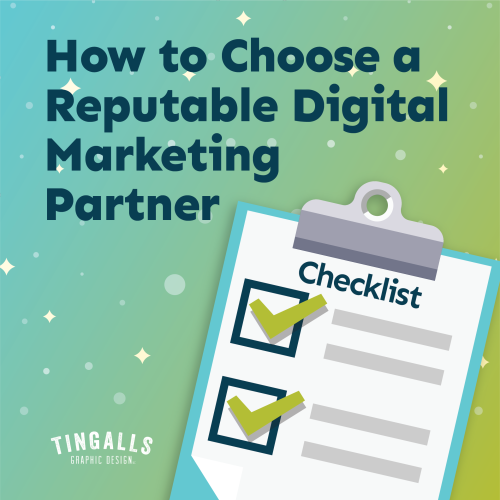 While Tingalls Graphic Design does offer some digital marketing services, sometimes we hire outside our firm to fill in gaps.
A few years ago, we made the decision to hire an external agency to help improve our visibility in Google search results. Within just a few short months, this agency's actions disastrously and negatively impacted Tingalls' online presence for our top three keyphrases. Their incompetent staff edited page content, renamed images, deleted blogs, and even changed the category on our Google profile.
When we tried to investigate the company's methods, they ghosted us and in the end, we only retrieved a fraction of our investment. What's worse, it took our team months to analyze and edit our website and nearly two years to regain online authority for our top keyphrases. This is on top of the business we lost from not appearing in any search results.
Discovering we are part of a wider community facing similar challenges is profoundly unsettling. So far in 2023, Tara has provided third-party consulting to six Madison-area companies facing digital marketing fraud and service misrepresentation.
Through her consultancy, she's created a simple checklist to help our clients, as well as the general public, in making informed choices when selecting digital marketing partners. We sincerely hope you find it helpful!
 1. Define Your Goals
– Outline goals for a specific product or service, its detailed target audience, measurable statistics you want to see change, and a starting/end date.
– The goal should also list the digital marketing tools you want to explore using. ie. Search Engine Optimization (SEO), Facebook Ads, Google Pay Per Click, Email Marketing, etc.
2. Research Their Reputation
– Read online reviews, and website testimonials, and check their rating with the Better Business Bureau (BBB).
– Request at least five references from recent clients (within the last six months) and interview them on their satisfaction level.
3. Assess Their Online Presence
– Evaluate the quality of content and design of their own website and social media accounts.
– Examine their SEO ranking for their core service keywords/phrases and see how well they rank.
4. Request Detailed and Thorough Pricing Information
– They need to offer a detailed proposal that includes the goals of the campaign, strategies and tools they plan to use, timelines, costs, team members, and commitment length.
– If the price seems too low; it could be a lack of experience. Likewise, it should not be too high. The investment you make should directly correlate with the estimated return on investment either through leads, online purchases, or whatever is outlined in your goals.
– Tingalls recommends signing contracts that are no more than 60 days in length unless the contract clearly states they offer a no-fee cancellation policy.
5. Evaluate Their Expertise & Experience
– Ask about their experience working with other companies in your industry.
– Assess the depth of their knowledge in various digital marketing disciplines.
– Inquire about the qualifications and experience of the actual team members who will be working on your project.
6. Transparency & Communication
– Evaluate their communication style and responsiveness in initial interactions.
– Ensure they are transparent about their strategies and how they plan to execute the campaign using Key Performance Indicators (KPIs).
– Clarify how often you will receive updates and whether reports will be in layman's terms vs. technical industry jargon. Ask for a sample report.
– Be sure you have "owner-level" administration to all dashboards and accounts set up for your campaigns, especially Google Analytics and Google Adwords.
7. Contracts & Agreements
– Carefully review all contracts and agreements.
– Confirm the scope of work, deliverables, timelines, and payment terms.
– Check for any hidden fees, cancellation policies, or clauses that might lock you in for extended periods.
8.  Tools & Technology
– Inquire about the tools, platforms, and strategies they will use to build and deploy the campaign as well as how they will evaulate it's success. ie. Google Analytics, etc.
9. Ethical & Legal Compliance
– Ask how they will benchmark success and likewise how they will determine when it's time to pivot if initial results are not ideal.
– Ask them to supply documentation on the company's ethical marketing practices as they pertain to "guaranteed results" and "standard expectations."
– Ensure they are compliant with laws and regulations like GDPR, for handling data and privacy.
10. Get More than One Proposal
– Speak with at least three agencies to compare their offerings, expertise, and pricing models.
While this checklist will aid you in evaluating potential digital marketing partners, remember to also trust your instincts. A company that is a good fit should not only meet the criteria above but should also make you feel comfortable, valued, and heard.
By being diligent in your assessment, you'll find a reliable digital marketing company that aligns with your business goals and contributes to your company's success.
– – – – – – – – – –
If you feel you or your business has been affected by fraudulent or misrepresented digital marketing services, we might be able to help as a third-party consultant. Contact Owner Tara Ingalls for a 3rd Party Assessment >>