5 ways to promote your website content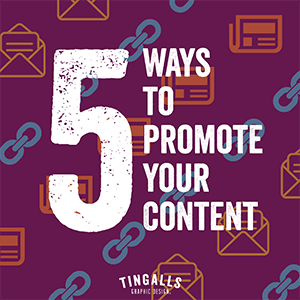 Web design strengthens the impact of your brand's message, but it's the words themselves that ultimately sells. Well-written content sets your site apart from your competition and delivers a message you control. Providing appropriate information will educate your customers and potential clients on the goods and services you offer.
At the very minimum, your website needs content for landing pages explaining each of the services or products you offer. It also requires a blog or FAQ page that answers questions about your industry and discusses topics that your audience cares about. Beyond that, your website content could provide case studies, buyer's guides, how-to pointers, videos, and more.
Promoting Your Content Makes the Difference
One of the benefits of publishing good content is that it will increase the number of people who find your website through search engines. Content can provide relevant keywords that show search engines what your website is all about. When search engines understand your intent, you are more likely to show up on the search engine results page (SERP). But today's consumers have a library of information at their fingertips, so your website needs to not only show up on their search – it needs to stand out. By promoting your website's content, you'll put yourself in front of a broader, targeted audience.
With all that great content and the effort you'll be putting into it, you want to make sure that it is seen! Below are five effective tactics that will promote your content and grow your audience.

Social Media
These days, a healthy social media plan has to be part of your overall marketing strategy. Social media allows for tremendous outreach and networking. It also creates interactivity and encourages viewers to take a closer look at your website. This increases traffic to your site and exposure to your brand. Social media also enables you to interact with your customers in a genuinely authentic way. You'll establish trust while gaining visibility. The impact of social signals driven by content shouldn't be underestimated. Most consumers, when asked, say social media impacts their buying decisions. Distributing and promoting your content through social media sites like Facebook, Twitter, LinkedIn, etc. builds credibility.
 Content Marketing
Posting new, valuable, and well-written information on your website in the form of a blog or news item increases your search engine optimization and enhances audience relationships. Content marketing, however, doesn't necessarily have to be a blog or news post. Fresh content can present itself in a variety of ways with each way addressing a select audience. Infographics, videos, white papers, e-books, and even photos are all examples of content methods that work. It's about keeping your website updated with relevant, exciting information that is easily shared and therefore, easy to promote.
 Journalist/Bloggers
Other writers like journalist and bloggers, love exciting content, especially content that complements their viewpoints. If you want to get people to your site, it's essential to provide content that people with influence will want to share or reference. If you get it right, it's a great way to see your content take off! A few tips to make your content appealing to other bloggers and influencers would be to:
Align your content with their stories
Make your content a way to get more information about their topics
Follow them and know what they are about
Share their content (Always ask permission! It's a great way to introduce yourself too.)
 Paid Advertisements
You might want to consider paying to get your content in front of a new audience. To do this, you'll need a marketing budget, appropriate content to promote, and an active call to action. Having the ability to measure your results along with the technical expertise to effectively place the ads will also be crucial to your success in this area. There are several ways to implement paid advertising online with the most common ones being Google AdWords or Facebook Ads.
Using Google AdWords expands your reach to a targeted audience of your choice. You can set your budget and pay per click (PPC). Keep in mind that it can be challenging to target the right people. It takes extensive keyword research and a little bit of trial and error. There are plenty of 'how-to' guides on it that are worth a read.
Using Facebook Ads or other social media paid advertisements produces another way to choose an audience and is slightly less expensive than Google AdWords. Again, keywords are relevant because these are the words your target audience uses to search for your services or products.
Repurpose Content
Give new life to your online text. Updating or turning existing content into a new format revives once-popular messages and presents them to yet another new audience. Pull out some great points within an article and put them into an infographic that is easy to distribute across many channels. Post your latest blog to LinkedIn but this time in a video format. There is also the possibility of creating a podcast on the topics you've written about in-depth. But besides other online forms, you can go old school with flyers, brochures or even talking points at face to face forums. Print magazines, newsletters, and public speaking are also a great way to repurpose your content. The point is good material doesn't have to go stale. Adding to it with current statistics or new information and presenting it as updated will strengthen it and your brand.
Use a Professional
Investing in original, valuable text is critical to search engine optimization but goes beyond rankings. Your site needs to work as your best sales representative. Because concise, well-written content is crucial to your website's success, hiring a professional copywriter makes sense. A professional writer will not only deliver researched and enjoyable copy for your website and can save you time and money. Professionally written content makes marketing your brand accessible and goes a long way in establishing your site as an authority to your customers.
Tingalls Graphic Design offers copywriting services that create an impact. We translate your mission into words that target your audience and have flexible, affordable writing services to meet your situation, including creating website content with keyword research. We'll provide the strategy and content you need to use your words effectively. To learn more about Tingalls Graphic Design's services, contact us today for a free consultation.