Case Study: Find A Wrench Website
Client: Find A Wrench Website
Brief: To create a new job board website for repair shops who are looking to hire well-qualified mechanics and a site for well-qualified mechanics to go to when looking for a job. It needs to not only reflect the industry but also to be modern and user-friendly.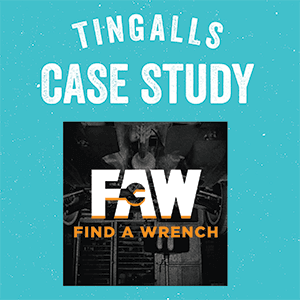 Find A Wrench is a unique job board website that specializes in automotive technicians, diesel technicians, machinery technicians and mechanics of all types. They work with dealerships and repair shops to help these companies find the perfect fit for their teams. They now offer resume assistance and career advice options for job seekers in the "For Mechanics" area. They've also created a fantastically intuitive space called "For Shops" that addresses the challenges that business owners face when looking to expand their employee base.
Jay Goninen, the owner of Find A Wrench, approached the project with the gusto and enthusiasm we love to see in a client. His vision not only included creating a well-designed website but needed to be easy to navigate. He also wanted to be able to make content changes himself.
We created a website design that was reflective of the high-quality service that the company offers. It included bright white backgrounds, combined with easily recognizable industry icons. A minimalist text styling and a color palate from their branding made for a timeless and visually appealing website that will last for years to come.
Sitting down with our designer, Kallie, who was in charge of the project, revealed a creative process balanced by the careful project management of the Tingall Team:
How did you work with the client on creating the look of the site?
As always, we meet with the client for a design input meeting to discuss the goals of the site as well as the overall look and feel. Jay had a clear vision of how he wanted the whole site to look like and feel.
During the meeting, we talked extensively about the purpose of the site and how important it was to communicate that this site was a resource for both technicians looking for a job and shop owners looking to hire technicians.
Coming from a family of mechanics and technicians, it was also important for him to showcase both the history and future of the industry.  He talked about how the term "wrench" was a commonly used name for mechanics and technicians in years past. Using that term was not only an expression of endearment, but it was also a way to show the respect he had for all technicians, past, and present.
What was your initial approach and how did it evolve as you got into designing the site?
I always start by doing a series of small thumbnails to get the general layout. I then move into a detailed sketch once I am happy with the flow of the site. When designing this, I kept thinking about how I can mix the history of the industry with the clean, bold look Jay wanted. I ended up making the content of the site focused on bold graphics. I used an asphalt-like texture that anchored the overall look. The result was a masculine aesthetic with a clean, modern appeal.
Was this website like any other site you've designed before? What made it unique?
This site definitely had a different feel then others I have done. I would say that I'm commonly attracted to a softer look using a more whimsical, playful design. So, to do something with more of a brawny-like style was outside of my typical design norm. But, I welcomed the challenge and was happy with how it turned out.
What assets did you ask Jay to provide? How did you help him with that process?
During the logo design process, we introduced the rough texture that is used throughout the site as possible branding elements, and he loved that. He wanted to include more of that general approach as we progressed. He provided us with images that appealed to him to work from. We were able to take those images and make them unique for his site.
The copy was another essential element of the site. Because Jay has been in the industry so long, he was able to provide the content he thought would speak to his audience. It was essential to have it unfold in the order that made the most sense to the site's navigation. With some initial advice and effective back and forth communication between him and our writer, we were able to help him create the story he was looking to tell.
What considerations did you make to ensure the website looked as good on a desktop as it would a mobile device?
It was important that the shops and technicians' buttons were what you saw first on mobile. We designed for mobile knowing people want to know what jobs are available right away. Most site visitors are not initially wanting lots of words. So, we increased the size of the shop owners and techs buttons in the navigation as well as separating them from the main menu. It resulted in a mobile-friendly, no scrolling look that enabled customers to get what they needed right away.
What challenges did you face during the website design?
This site was quite fun and easy to design, so there weren't a whole lot of challenges. The client let us have a lot of creative freedom. Of course, it helped that he knew what he wanted. His goals were specific, and he came to the table with fantastic ideas. I would say that the biggest challenge we had was creating a balanced design that had that tough/rugged look he wanted but also a sleek, contemporary overall visual. Those two ideas can compete with each other. I think by keeping the typography fresh and using bold color blocks and icons, we were able to offset both approaches for an effective result.
How long did this project take?
This project was actually pretty quick. Because we all worked so well together, there wasn't a lot of edits or revisions. Of course, one "little" delay was the delightful arrival of his first child! But even with that, the site came together quite quickly. A few things got added once the site was coded and built including a newsletter sign up and social media. Even with those small changes, the initial design stage to launch was about two months.
The future for the www.findawrench.com website will be to continue to evolve to meet the needs of its clients both on the shop side and the technician side. Jay plans on adding more and more value for his site audience. He'll do this by expanding with informative blog posts and industry news. The social media aspect and "Advisory Committee" area will continue to provide a platform for everyone involved to share ideas and offer suggestions.
To learn how Tingalls Graphic Design can create a fantastic website for you just like we did for Jay, schedule a time to meet with us. One of our award-winning designers is waiting to create just the right look with your ideas in mind.