15 Crucial Questions When Interviewing a Website Designer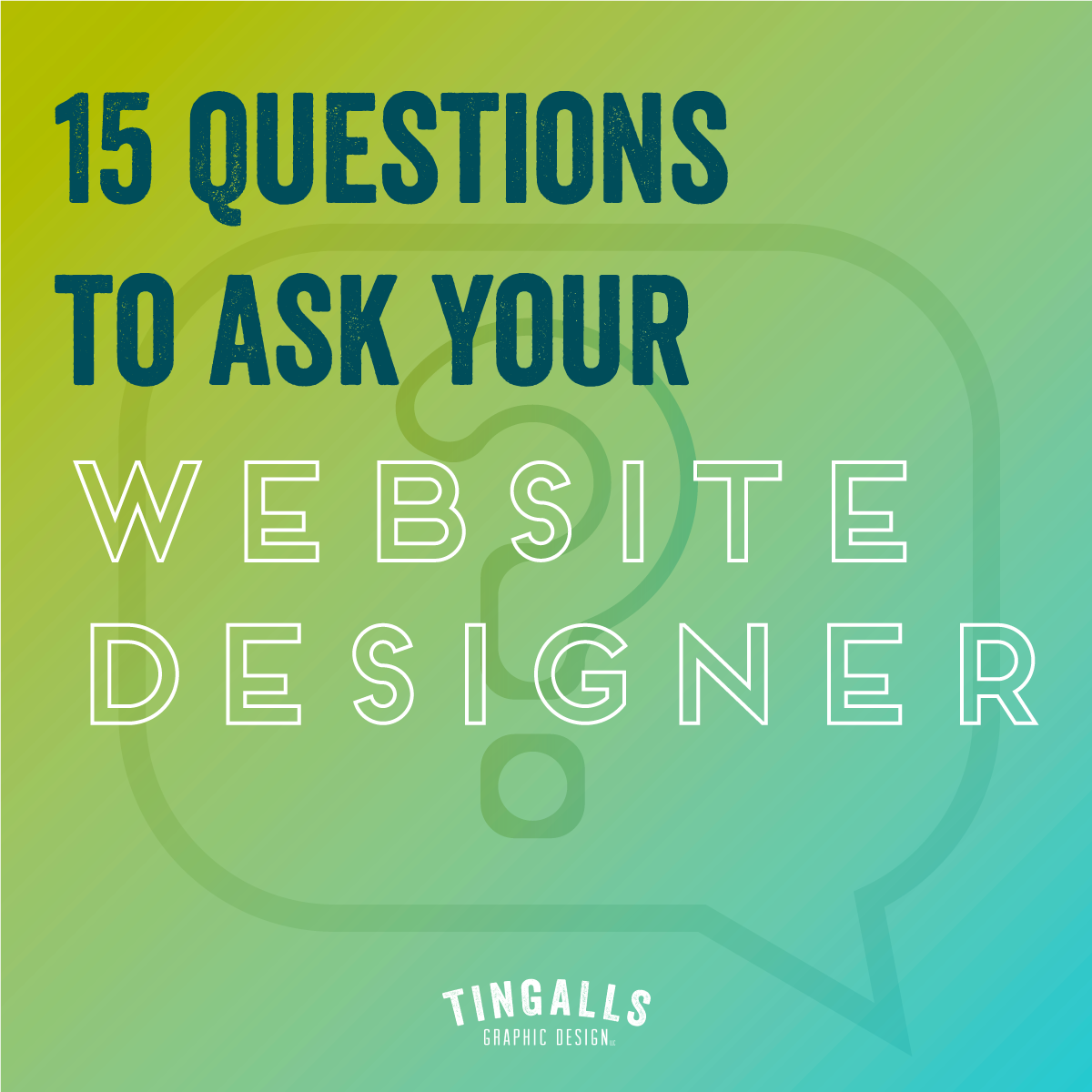 Hiring a website designer is a significant investment in both time and money for any business or individual. That said, in today's digital landscape, a well-designed website is a crucial marketing tool to build brand awareness.
So, when you're ready to take the leap and hire a website designer, how do you make sure they'll align with your needs, vision, and goals? We believe asking the right questions is key so our team has compiled 15 questions to ask during the interview process:
1. How long have you been designing websites?
Understanding a company's background and expertise will give you confidence in their ability to deliver the website you need on time. Tingalls has been in business since 2000, so we definitely understand the myriad of options and can help our clients whittle down options to get exactly what they need and nothing more.
2. Can I see samples of your work?
Reviewing a company's portfolio of work helps you peek inside its design style and versatility. Tingalls has designed hundreds of websites since 2000 on a myriad of different platforms from doggie daycares to law firms and everything in between.
3. How do you approach responsive design?
In today's mobile-driven world, responsive design is a must to ensure your site looks great on all devices. Tingalls has a multi-step launch checklist before and after all our client websites go live to be sure our websites look spectacular on desktops, smartphones, and tablets.
4. Do you have experience with SEO?
A website designer who understands SEO best practices can create a site with a strong foundation for search engine visibility. Keyword research is part of Tingalls' copywriting process as well.
5. What platforms do you specialize in?
You don't want to be going through the design process a year from now when the platform suggested is out of date or no longer meets your needs. It's important to think long-term and choose a platform that can grow with your company.
6. How do you ensure a consistent brand identity?
To us, website design is far more than just adding a logo and changing colors. Everything about your brand should be included in your website design including your voice, key messaging, graphics, photos, and targeted calls to action, to name a few.
7. Can you integrate e-commerce functionality?
Selling online is easier than ever. Simple donation forms are a breeze, and even small stores can be set up in just a few hours. If you need a website to sell, be sure you choose a designer with experience so your shoppers don't get stuck in the cart and can't checkout. Test, test and test again!
8. Will my website load quickly?
Most online website builders already have image optimization built-in, but in the chance you choose a platform that doesn't and you don't have access to photo manipulation software, ask your developer if a plugin can be added to aid the process.
9. Can I edit my website myself when it's done?
A user-friendly content management system is essential for easy text and photo updates. You should be able to log in, make your edits, and log out within minutes, not hours. Tingalls provides website editing tutorials on all our websites and we also record the session so you can refer back to it.
10. Can you integrate 3rd party platforms?
Depending on what you need to be integrated, most web developers are skilled in connecting outside tools using API keys or tools like Zapier.
11. Will my website be secure?
With website security now part of Google's search algorithm, SSLs should be standard on all websites. If they will be hosting your website, be sure they can install an SSL.
12. Can you provide references?
We recommend asking for five references for websites built within the last six months. Those individuals will have their project top of mind and be able to speak on the company's communication and whether their project was built on time and on budget.
13. How much does it cost and when do I pay?
Ask your website designer for a simple, line item quote that includes all the features you've inquired about. Be sure the estimate includes the platform, number of pages, copywriting vs. design services, etc. Regarding payment, do you have to pay for your website all upfront? Or, over 12 months? Getting clear at the start of the project regarding the financial commitment of this project will alleviate any confusion down the road. Some companies, like Tingalls, even offer payment plans for start-ups and nonprofits.
14. When will my website be done?
Get clear on what is needed on your end and theirs to complete the project timely. Sometimes hiring a dedicated project manager or employee to hold parties accountable can keep the project moving along. At Tingalls, we provide our clients with their homepage design in about one week!
15. How do you handle ongoing maintenance and updates?
Most online platforms require minimal updates, but others like WordPress require monthly software and plugin updates to prevent hacking and spam. Ensure the designer offers post-launch services if needed so you don't have a headache.
Asking the above questions will help you gauge a website designer's skills, experience, and ability to take on your project. Remember that open communication and a shared understanding are key to a successful partnership. Don't rush the process. Investing time and planning upfront will build a great foundation for a visually appealing, functional, and effective website that aligns with your company's goals.
– – – – – –
If you're looking for a new website, we'd love you to consider working with Tingalls.  Visit our website design page to get a quote >>