How to Increase Customer Loyalty (without Spending $$$$) with Thank You Notes
By Andrew Hall, Copywriter Intern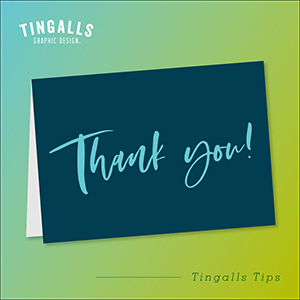 I asked my mom, "Why can't I just send them a text?".
My mother made me (or else I had to do the dishes for a week) write thank-you notes for the gifts I received at my high school graduation party. At the time, I thought the gesture was stupid, outdated, and a waste of time.
"Why does it matter whether I write a text or a hand-written note?" I thought. We all have received (or written) that generic type of thank you card,
"Thank you very much for [gift].
I use it a lot.
Thanks, [Name]"
I figured I already had to take the time to write the notes, why not put some effort into it? So, I dutifully wrote out 20 personalized thank you cards, each written with unique stories and notes of gratitude.
The response was overwhelming. Almost everyone wrote back, thanking me for writing such a personal, thoughtful letter. They all enjoyed the stories and appreciated the words of endearment. I was shocked. I learned a valuable lesson from that response … Mother knows best.
So why is a graphic design company blogging about hand-written thank-you notes?
We believe they are as important today as ever. Business is a competitive field. Companies are always trying to find a new way to get ahead with email blasts, blogging, website ranking, social media, etc.
As businesses have turned more and more to digital advertising, we rarely get that personal touch. Something to grasp, hold, or hang up on the refrigerator. When we buy something online we can expect to get an impersonal autoresponder email or comment at the bottom of the receipt, "Thank you for your business. Come again." Imagine if that business owner sent you a thank you note afterward. How would that make you feel?
I'm guessing you would feel appreciated, loved, make you want to purchase again?
Why not write thank you notes to your customers? Sincerely let them know how much you appreciate their business, and how it is your honor to help them. The result? Your customer loyalty and customer referrals will skyrocket.
Consider this example: Bob is a 75-year-old, retired father with 4 kids and 12 grandchildren. It is Christmas time and Bob wants to have his entire family over for dinner. The problem? Bob doesn't cook. So Bob just hired your catering company to deliver a fresh, gourmet meal to his house for his family's Christmas dinner.
Bob and his family enjoy the meal. But would he hire you again? He might, but he might not. Either way, you are leaving it up to chance. What if you wrote Bob a handwritten thank you note?
Dear Bob,
Thank you for allowing [business name] to be a part of your Christmas holiday. We hope you enjoyed your meal and were able to create joyful memories with your family. It was an honor to serve you and hope you'll hire us again.
Best,
[Business name]
The best marketing is word-of-mouth marketing. After receiving the thank you note, Bob has become an avid recommender of your business and tells all his friends and family to order from your business. In conclusion, your token of appreciation will go so much further as a thank you note than a simple digitized, automatic email. Be unique. Stand out. Write a thank you note.
Need help?