Benefits of Supporting Women-Owned Small Businesses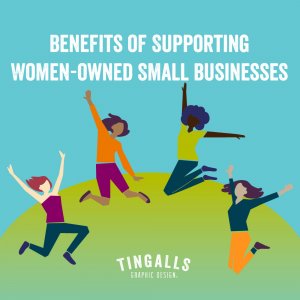 Happy Women's History Month! As a woman-owned and staffed small business, Tingalls understands first-hand how important it is to support other women-owned businesses.
Here are five reasons to support women-owned small businesses in your community.
Small business owners care about the people in the neighborhoods they serve. Building relationship with local small business owners means you can expect more personalized customer service that often goes above and beyond your expectations.
Money spent at local businesses stays in the community. When you make a purchase from a small business, you are supporting a family in your community rather than lining the pockets of some executive at a big box store. Studies show that women reinvest up to 90% of their income in their families and communities.
When you shop women-owned businesses you are empowering mothers and women with unpaid caregiving or other family responsibilities. Running their own business gives these women the flexibility to set their own hours so they can generate income while also caring for their families.
By spending your money at a women-owned business, you are supporting equity and equality. You are investing in women's economic empowerment, gender equality in business, and the overall growth of your community. Supporting women-owned businesses also helps to close the wage gap. This is especially true when supporting businesses owned by women of color, who typically face an even greater wage gap.
Shopping small means you can find more one-of-a-kind items. From unique handmade jewelry, art, and home décor to small batch food items and handcrafted cosmetics, the number of creative items you can find in women-owned shops is endless. Having shops that sell unique items can also benefit your community by increasing tourism.
Tingalls appreciates all our clients for their support of our woman-owned small business. We encourage you to check out our Facebook posts for the month of March 2022 to learn about many other fantastic women-owned businesses in the Madison/Dane County community.