Is Squarespace the Right Web Solution for You?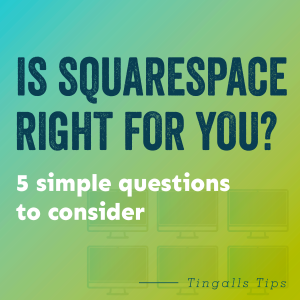 If you know Tingalls, you know we love great design. And, finding tools that both pair great design and enhance efficiency to help save our clients money is a win-win in our book!
One platform we're particularly excited to be offering is Squarespace. While there's no shortage of options of website builders on the market, including Wix, Weebly, GoDaddy and many others, we've become more and more impressed with the customization of Squarespace the more we work with it. In short, its intuitive drag-and-drop design features come already responsive so you can rest assured your site will look amazing both on desktop browsers and phones alike. That's huge!
Here are five simple questions to help determine whether Squarespace is the right fit for you:
1. How robust does my website design need to be?
While some of our clients need customized, complex website designs (which we build in WordPress), for others, Squarespace is well suited to a variety of small to mid-sized businesses looking to launch a quality site in less time or with smaller budgets.
It's drag-n-drop design feature allows us to add and format content quickly and we've found some pretty cool design enhancers along the way:
Project Portfolios – Huffman Facility Development's Project Gallery
Form Development in a Snap – Riverwood Senior Living Survey
E-commerce for less than you think – Pleasant View Orchard & Bakery
Live Social Media Feeds – Living Wood Creation's Instagram Feed
Animation & Video – PWG
And so much more!
2. What's my deadline on this project?
Another reason we really love Squarespace is the platform makes it easy for our team to build sites quickly with most of our  websites launching in about 2-3 weeks. The bonus for clients is that this saves them time and money.
3. Are you looking for a one-stop-shop?
We love that Squarespace offers all you need to get up and running – domain, hosting and website builder. The platform also provides a blogging tool, online appointment scheduling software, e-newsletter creation and even e-commerce. All these awesome content management tools are built with the same accessibility and ease of use as their page designers.
We also found that Squarespace offers all kinds of widgets and external application integration tools making it a breeze to connect all the apps that you use in your business including  Slack, Constant Contact, Salesforce, and more!
4. Do you want reliable analytics?
Trick question! Everyone needs digital marketing data to drive business decisions today – the more of it and the more reliable the better. Squarespace is equipped with easy-to-understand analytics to put decision-making power at your fingertips. While nothing can match the prowess of Google Analytics, it's a great alternative (or addition) to your digital marketing tools.
5. What if I need to edit on the fly?
Squarespace even offers an intuitive app so you can manage your website right on your phone! While not all the features of their online platform are available, quick text edits are a snap and live immediately!
A Platform that has Proven its Value
In our 20+ years as one of the Madison area's top website development companies, we've seen a lot of products and platforms come and go. After designing nearly 50 websites in less than 18 months, Squarespace has proven to be a reliable platform  for companies of all sizes and industries.
Contact us if you still have questions! We'd love to help you further evaluate if Squarespace is the right platform for your new website.