Tingalls Wins Sixth Consecutive Award for Best Website Developer in 2020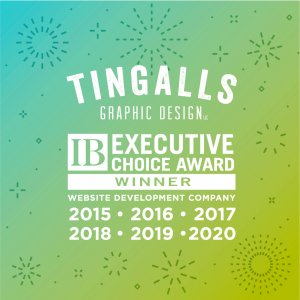 We are super excited to announce our firm has won the prestigious InBusiness Magazine's Executive Choice Award for Best Website Development Company for our sixth consecutive year!
Winners are determined by a majority vote of write-in ballots from 1,000 Madison-area executives, business owners, and decision-makers. The award honors businesses across various industries for excellence and proven success in a spectrum of categories.
Despite the devastation the COVID-19 pandemic has had on some businesses, we are feeling grateful. In March, our team was able to quickly get set-up to work remotely to help our loyal client base with website edits, email blasts, and signage so they could communicate with their own customers during the crisis.
Throughout the year, our design team also spent down time researching and expanding their skill sets on new website platforms including Squarespace, Webflow, and Shopify. These nimble, lower-cost web offerings make great additions to our Custom WordPress Themes.
Our company also introduced our "no payments for 90 days" for start-ups to help ease the financial barrier of getting their company online. It was a huge hit and will plan to continue offering this option moving forward. We love being part of the ever-growing entrepreneurial spirit in Dane County.
Although we were sad the pandemic overshadowed our milestone 20th anniversary, we are kicking 2021 off with a positive attitude, and we're excited for what's to come. If your organization or business is looking for a fresh online presence this year, please reach out to us. Our simple quote request form will give us all the details to prepare a proposal.
Get a Website Quote!