The Art of Writing Better Social Media Posts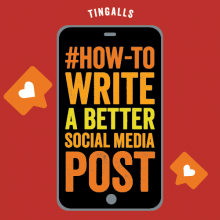 Social media offers many benefits to businesses. Communicating with the customers you already have and connecting to ones you'd like to have are just two of the advantages. Solving problems, answering questions, or just showing your business culture, will gain the attention of a targeted group that matters. While you don't have to resolve all of their problems, a few well-written social media posts will go a long way. Showing an audience you relate to their lives will make them want to interact further.
But how do you create a great post that converts that audience to a client? While there is not just one correct way of writing the perfect post, there are some best practices to follow that help make your posts stand out to the right audience.
Have a Clear Objective
The key to any good piece of writing is to have a purpose. With a short bit of writing like a social media post, your objective needs to be reasonably straightforward. Ask yourself what you want to do with this post. Do you want to direct them to your website? Encourage comments? Get readers to share it?
Keep your social media posts short and sweet
Each social media platform has its own set of rules and guidelines on how many characters you can use per post. They also limit your use of hashtags and images. Because of this, you want to know the rules and recommendations so you make the most of your efforts.
Character Length Suggestions



Grab their attention
If you want your audience to click on a link or read a blog, then you need to entice them with an attention-grabbing headline. Incorporating something funny, surprising, or somehow interesting into your social media strategy will boost your readership and engagement.
All chat with no purpose vs. all-purpose with no chat
Just like in almost every other aspect of your life, posting on social media is about balance. You can say what's on your mind as long as it means something to your reader. And you can be promotional as long as you are also helpful. Keep in mind that when you address a problem or concern, you want to offer something that they can relate to or that will address their situation.
😁 Tell a story with your social media posts – emojis can help 😀
It's all too easy when writing short statements for the meaning to get lost in the interpretation. Using emojis is a great way to express intent. Don't shy away from these great little communication tools. The sooner you accept that they are an interictal part of social media, the better! It's a well-known fact that the use of emojis increases user engagement on most social media platforms.
Did you know? If you hashtag an emoji on Instagram, it will become a live link to see all other Instagram posts that have hashtagged that emoji.
Write to your reader
Skip the industry jargon and marketing-speak and use plain English. Channel your inner Hemingway – short, concise sentences and thoughts (try the Hemmingway app for a little help). Offer information that your reader wants to know. In the back of your mind as you plan your posts – remember your interaction will provoke a reaction – be it interest, laughter, curiosity or even anger.
Custom visuals will enhance your social media posts
Smart visual content (GIFs, videos, infographics, etc.) along with purposeful posts will differentiate your content from the others. Online studies have concluded that businesses that use unique visuals have a higher conversion rate on their posts. Most of us are drawn to a fantastic looking image. It's pretty clear that if you do it right, you'll attract more eyes to you and your company. As part of your post, you'll make it easier to be found too. A custom visual can catch their eye at the right time and in the right place when they are searching for answers.
Use a Text Editor
Writing in a simple text editor first is the best way to stay focused and avoid silly mistakes. Target your message and avoid the distractions that come with writing directly within a social media platform. You'll also be able to see the word count and check for grammar. Several online text editors make it super simple to write and will even grammar/style check your words. Just remember that there is no substitute for human proofing. Proofreading takes constant vigilance but monitoring your work as you write can be distracting to the creative process. So, take a break from your masterpiece after it's written and then return later with fresh eyes to catch errors and typos.
Speaking of humans, be social!
As you can see, when used correctly, social media can be a useful tool. Whether you choose to interact on Twitter, Facebook, Instagram, LinkedIn, or a combination of any of these platforms, dynamic social media is the best way to get your audience to engage with your brand. You'll be on the tip of their tongue next time your industry is brought up, and they're sure to spread the word about your company if they remember your last post. 👋