Professional Development Helps Your Business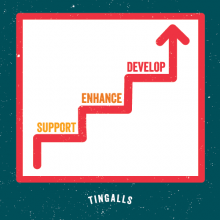 A business that commits to growth strategies not only inspires everyone who works for it but is also the envy of those who don't. A company that believes in their employee's professional development will also perpetuate business success. After all, when employees have the support they need, they are motivated. A motivated staff not only moves themselves forward but moves the company forward too.
Linking Employee Growth to Business Growth
At Tingalls Graphic Design, professional development is linked with company growth. Owner, Tara Ingalls, encourages her employees to tie their individual career goals to the broader business mission.
"Opportunities to learn and share new dynamic skills encourages each of us to work on becoming our best selves," she said. "That, in turn, helps the company right now and into the future."
According to business experts at Forbes Magazine, companies need to offer growth opportunities. Otherwise, employees will find employers who do.
Tingalls represents a growing trend among businesses taking heed of this advice. As a company empowers its employees, it gives them more control, which reduces stress and negativity. This, in turn, translates into more creativity, less missed workdays, and better productivity.
"When employees are happy, they are loyal, and loyal employees have the best interest of the company at the forefront," Tara said. "It's been my experience that expressing genuine interest in employees' development, and skills make my staff not only happier but also advances the company's offerings."
Critical to your business success?
As your business grows, the skills you need to run will evolve. It will be a lot easier to meet and benefit from those changes if you have personnel that can step up to new challenges. Businesses should think about meeting new demands brought on by economic conditions, industry competition, and technological advances. New processes and skills from your team will keep you ahead of the game.
Creating a plan of succession involving professional development will help your business thrive. Nurturing your best employees with mentoring, training, and coaching will ensure you're readiness for success.
What type of development do your employees need/want?
First, you'll need to conduct a skills gap assessment. Determine what kind of professional development will best benefit and suit your company. There are several ways to do this:
1)   Identify your best employees. A valuable employee can set the standard for the whole office. This is the type of person who offers quality work and meets deadlines. They also seek out opportunities to grow their skills and learn new ones.
2)   Identify those employees who would benefit from more training. Also, identify those that may just be poorly matched with their current position. A poor job match results in evidence of strong effort but poor performance.
3)   Remember also that improved performance is a result of ability + motivation. Enhancing knowledge benefits your company only if they are positively motivated as well.
How to start a professional development program
Create a Mentorship Program
Connecting senior employees with lower-level employees can help both individuals. Encouraging mentoring between different levels opens up new opportunities. Each will enhance their skills while growing their network. Both will be able to enjoy a unique professional relationship.
Use Online or Local Courses
Online or local continuing education courses are a fantastic way to stimulate your employees' skills. These courses are open to the public and teach them about themselves and their industry, as well as enhance their skill sets.
Encourage Industry Resource Use
Provide employees with access to industry resources, so they gain specific business skills. Investing in these tools provide accessible learning opportunities.

Steps to creating professional development opportunities
Of course, professional development requires both the employee and the employer to work together. Forming a mutually beneficial opportunity is critical. But there are positive actions that an employer can take to motivate employees to either seek or create opportunities to grow.
Create an atmosphere of self-determination. Encourage employees to take ownership of their advancement. They should feel they have support but ultimately are responsible for expanding their knowledge/skillset.
Each employee should have a clear picture of what skills are needed to advance in their positions. Identifying the needs of the company and the work required will set up the path of success not only for the business but for the employee. Sit down with each employee and discuss what is most important currently and in the future.
An employer should take into account that a learning curve for new skills will exist and the time it takes to master will vary from employee to employee. So, even though there may be a slight loss of productivity during the process – it will pay off in the long run.
Be interested in what your employees are learning. Ask a lot of questions and get to know the objectives. Include others in the discussions so everyone can benefit from the process and know what to expect.
Professional Development is a win-win
It's quite simple. Employers that rely on compensation alone to show employees they are valued are missing out. Taking employee advancement seriously when it comes to nurturing the business of learning pays off both in the short term and the long term. From new grads to someone who wants to take their position to the next level, professional development opportunities are good for business. Helping employees be the best they can be, sets everyone up for success.