Why does My Website Need an SSL Certificate?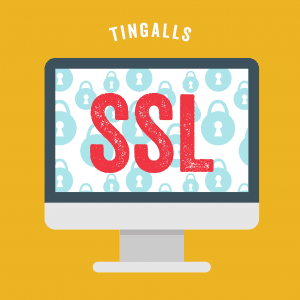 As a business owner, you may feel as if you've been hearing an awful lot about SSL security these days. Chances are, you've been using sites with this functionality for years, even if you didn't notice it. But now you may be noticing emails, blog posts, and other materials suggesting you add it to your site, too.
But what is it that makes SSL such a big deal? And why do you need it on your website? To get to the answers, let's take a quick look at a few of the relevant issues…
What is SSL?
SSL stands for Secure Sockets Layer, which means a website with this hosting has the ability to form a secure, encrypted connection with each visitor. Because it encrypts transfers of data, SSL makes it very unlikely that a hacker or identity thief could intercept data transferred between an enabled website and its visitors. That makes things safer and more comfortable for you and your customers. To see if a website has the extra layer of security, check to see if the URL starts with a green padlock and HTTPS. The "S" stands for secure and has ensured that the website has gone through a validation process and several identity checks in three steps. The first step is to encrypt the data so the information can't be stolen. Second, the data integrity keeps the files that are being transferred from becoming corrupt. And lastly, the authentication step protects against phishing attacks.
Not All Validation Certificates Are the Same
Once you decide to upgrade to SSL hosting, it's important to recognize that there are different levels involved. In particular, you need to ask yourself which kind of certificate will give users the trust and security they're looking for. Here are the three different types you'll need to be aware of:
Domain Validation – this standard SSL can be issued within just a few minutes. It proves domain ownership, but does not validate whether the site is legitimate. This is useful for internal systems only.
Organization Validation – proves domain ownership and validates the organization against the business registry databases. This is a standard certificate for commercial use.
Extended Validation – This validation is the most trusted with consumers because it provides the assurance that this certificate identifies the legal entity that controls the website. The address bar turns completely green and information is encrypted during the exchange of information over the Internet between the browser and the website. Using extended validation makes it much more difficult for phishing and fraudulent attempts. (Want the details? You can learn more about SSL here…)
Why is an SSL Certificate so Important?
With those details out of the way, let's get back to the question at hand: why do you need SSL hosting for your website?
The biggest reason has to do with security, something that's always a big concern for businesses of every size. It's easy to forget just how many people can get access to sensitive information when your website isn't as secure as it could be. The last thing you want to do is lose your customers, and/or their trust, because you didn't take the proper steps to protect them.
Another reason – and probably why you've been hearing so much about SSL certificates lately – is that Google is now using secure connectivity as a search indicator. In other words, websites with encrypted transfers can get a small search engine optimization advantage over their competitors. That's taking a technology that used to be reserved for banks and online retailers and making it a default expectation.
Luckily, SSL functionality is inexpensive and easy to integrate into your existing website. If you would like to find out more, take the next step and call the Tingalls Wisconsin web design team today to see how we can help!
Save
Save