Important Google Search Update: Rumor Control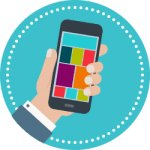 The SEO world is buzzing with rumors about the April 21st Google Search Engine Update. Never fear! The team at Tingalls Graphic Design sat down and figured out exactly what this new Google search update means.
Many of our clients have come to us with questions – what is going to happen to my site? I just paid for SEO – does that mean I wasted that money? The answer is a resounding NO – All SEO is worth your time, and Google takes into account over 200 factors for search engine rankings.
We understand your position – we had the same concerns. These days, anyone who uses the Internet as a business tool has a stake in how Google handles information. A savvy web marketer needs to know how Google does what it does. Never fear, the Tingalls Team is ready and excited to help you take advantage of this update. Here are some facts about the Google update.
Facts about the Google Update
The update will begin April 21st.
Google expects completion in about a week.
The update will DEMOTE websites that are NOT mobile friendly for mobile searches. That means that if you use your phone to search for a restaurant while you're out and about, Google will return sites that are mobile-friendly first.
Google takes into account over 200 factors for search engine results.
This update includes other factors as well – like page load speed.
What does that mean for your website?
Typically, Google releases their updates as a sort of sneak attack – it's very rare that they give any warning to webmasters and site owners. This is because historically Google updates are designed to improve Search Engine Results Pages (SERPs) and defeat those who are attempting to manipulate the search index. For example, the "Panda" and "Penguin" updates over the past years targeted websites that used "black hat" techniques – that is, dishonest or manipulative methods to rank higher.
These updates are always for the good of the online community. Yet, sometimes website owners feel they have to jump through hoops or spend some money to maintain or establish compliance. However, as Google always says, "Focus on content," and traffic will follow.
The staged deployment of this update is a good thing. It gives website owners and webmasters time to gain the full measure of the changes and time to make sure web sites are in full compliance. The update is designed to make sure mobile users get the best, most usable and viewable responses. According to some sources, the number of mobile users surpassed the number of desktop users in late 2014.
That said, mobile-friendly is one of hundreds of factors that Google takes into account. So, if you're rocking the SEO, and your mobile is a bit behind, it's not the end of the world (see: Stay Calm and Search On).
The Bottom Line

The result of this update is simple: if you want to stay in the lead with Google search results at the mobile level, your site must be Mobile Friendly. Check with the Google Mobile-Friendly Tester if you're not sure.
Contact Tingalls Graphic Design if you have questions about your website or if we can help you become compliant with this new update.