When Social Media Becomes Antisocial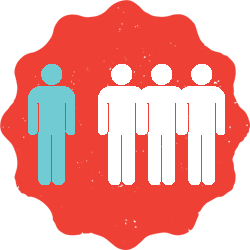 Many companies understand that social media is now an inherent part of running a business. But when it comes to understanding HOW to use social media effectively, they struggle.
The whole point of social media is to engage with readers and hopefully start a discussion. But many companies are actually inhibiting discussion by disseminating content that looks more like an advertisement, or a one-sided sales pitch, that can easily be perceived as spam.
Since none of us want to be antisocial, at least not with social media, let's take a look at some best practices we follow here at Tingalls Graphic Design, which encourage readers to participate in a conversation with us. All of the following tips are appropriate for Facebook and LinkedIn.
Keep it Short
If possible, have your total character count be under 120, especially if you're highlighting a link to a full blog post or article. If the post is self-contained, with no links, it still shouldn't go beyond a maximum 300 total characters (including spaces).
Show an Image
An interesting image is more likely to catch the attention of someone who's scrolling down his or her Facebook feed. Remember to name the image with an SEO rich keyword phrase, so the post will have more authority on Google and Bing.
Make it About the Reader, Not About You
When you create Facebook or LinkedIn posts that are all about the reader, they're more likely to engage. Open-ended questions, a quick survey, or a link to an article that touches upon their pain points, gives them permission to contribute and be heard.
Don't Over Promote Yourself
Sure, it's OK to highlight your products or services, but this should be the exception instead of the rule. When you do promote your business, make it all about how whatever you're highlighting benefits the reader. As proud as you may be of any awards or accolades you've received, people care more about how your product or service will help them or make their life easier.
Keep it Conversational
Although this seems obvious, keeping your posts conversational makes you more approachable, so there's a better chance of actually having a conversation. Just be sure to sustain the integrity of your brand's voice while you're doing it, and keep your customer demographics in mind so your language aligns with theirs. In other words, if you're Tiffany & Co.®, you might not want to publish a post that ends with, "Keep it real, YO!"
Keep it Positive
Most people prefer light-hearted posts, and shy away from anything overly serious. This isn't to say you can't talk about serious matters, but it's best to present them without too much doom and gloom.
At Tingalls Graphic Design, we love social media. We also enjoy analyzing how each of our posts perform, so we can better understand what readers enjoy. We always utilize these best practices in own social media, as well as in the social media campaigns we work on for our customers. No being antisocial here!
Need help with your social media campaigns?
Contact Tingalls Graphic Design anytime. We'd love to chat with you about how our team can help!