What's in a Business Card?
"Wow, now that's a great business card!"
If you haven't heard this about yours, what are you missing?
Business cards are an invaluable opportunity to leave a lasting impression of your organization in the hands of a new contact. They create first impressions, start conversations, express your professional personality and serve as a reference for the future. So, with all the value that can come from a business card, why are so many professionals still using the same tired white cards? Can you remember the last GREAT white business card you've seen?
Here are a few tips to incorporate into your business cards to make them memorable and effective for you: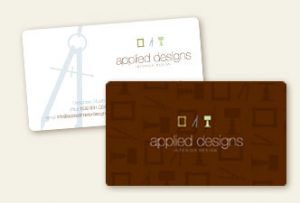 1) Use color – It's more eye-catching than black and white. Plus, with recent advancements in printing, color cards are more affordable than you might think. Use reverse color with a dark background and light lettering to make your text pop. Include the color version of your logo, which is probably more attractive than the black and white version. Even the colored edge of your card will stand out in a stack of white ones. Color instantly infuses energy and excitement into your card.
2) Acknowledge the existence of the back of your card – The printing of two-sided cards is competitive with the printing of one-sided so why not put that extra space to work for you? Use this as the location of your services list or tagline. Some folks like to leave room for the new contact to make notes about their initial meeting. Instead of leaving the back blank, you can encourage these notes with a line about what you want them to remember, like "What Jenna can do for me:" or "Referral ideas for Jenna:"
3) Make it representative – Your business card should be an extension of your personality and represent what your company has to offer. Start with your logo and basic contact information. Incorporate your branding and tagline. Then include a small tidbit about your products or services so folks can tie that back to your impression or use it as a reference when you're no longer in front of them. Review it to make sure it reveals both your brand and what you do effectively.
4) Make it valuable – Give them a reason to hang on to it. Include a coupon for a percentage off their next service. Make it a fillable appointment reminder card. Add a quote that resonates with what you do or a testimonial that will add credibility to your services.
5) Make it stand out – Use a shiny finish to make them stand out or maybe a recycled paper if your business is green. Incorporate a strategically placed die-cut into the card to break up the text or trying using a special shape, like rounded edges or a leaf shape. The use of these elements cuts through the clutter of standard cards and adds to the uniqueness of your card.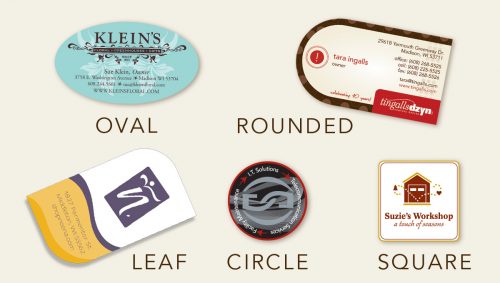 Today's marketplace is saturated with options in every industry . A well-design business card can differentiate you from your competition by making you meaningful and memorable. So, how effective is your business card?
Tingalls can help you incorporate these tips plus put our expertise in designing business cards to work for you. Check out our business card designs and request a quote or give us a call to re-energize this valuable business tool.