We Wish We Had Known, Vol. 2 is available now!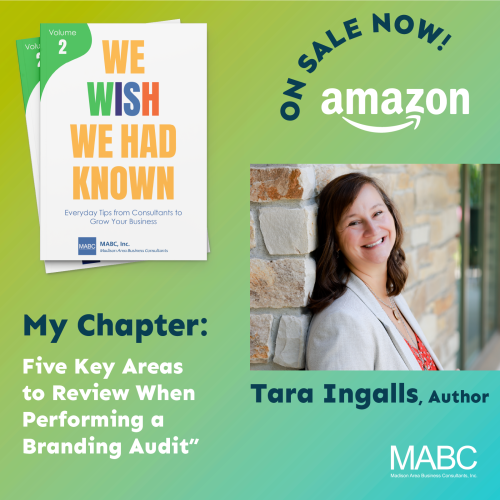 This highly anticipated sequel to the original #1 Best Seller is an incredibly unique approach to business tips and tricks. Each chapter is authored by a Madison expert who speaks directly to you in their unique voice, providing tailored insights. It's akin to having 30 consultants at your disposal, ready to guide you through the complexities of the business world. Furthermore, these experts are local, creating opportunities for meaningful follow-up discussions over a cup of coffee.
Below is a sneak peek at the chapter contents:
Know and Nurture Your Purpose – Amy Ackermann
Every Business Uses IP—Know What's Yours and What Is Not – Jennifer L Amundsen (she/her)
Choose the Path of Passion Over the Route of Survival – Jazmynn Appleton
Upright and Unstoppable: How Posture Impacts Consultant Effectiveness! – Anne Asher, CPT
What Doesn't Kill You Will Make You Stronger (Supposedly) – Aaron Bakken
Create a Compassionate Relationship with Work – Laura Beck
10 Consulting Essentials – Deborah Biddle, IICDP
Accelerate Your Business with a Brand Book – MaryJane Connor
How to Eat an Elephant: Become a Consultant Expert with a Book – Mary Helen Conroy (she/her)
Leading Creative Teams and …Broccoli? – Heather von Oesen Dean
Facilitating Learning with Finesse: Empowering Group Engagement – Stuart B. Fields
Outsourcing: The Secret Weapon for Multitasking Consultants – Trey Fischer
Beat Burnout with the 85% Rule – Ellen Foley
Advice to My Younger Self: Find Support and Go for It – Ken Halfmann
You're Not "Just A"…You ARE a Business Owner and Leader – Hollie H. Hollister
***** Five Key Areas to Review When Performing a Branding Audit – Tara Ingalls *****
It's Both What You Say AND How You Say It! – Lee S. Johnsen
From Bland to Grand: A Presenter's Guide to Vibrant Slide Decks – Dawn J Mahoney CPTD
Straight from the Horse's Mouth: The Power of Video Testimonials – Ann Massie Nelson & Ren Patterson
The Introvert's Approach to Powerful Networking – Jamie Perez
The Cinderella of Website SEO – Candy Phelps
Mindful Marketing When You Have Limited Capacity – Rachel Rasmussen
The Transformative Power of Workflow Analysis – MJ Reiners
Stop Thinking So Hard! Leveraging the Power of Intuition to Make Decisions – Caroline Renee Geraci
Retain Your Best Team Decisions – Jennifer Revels
Advertising in a Digital World-Consistency, Repetition and Frequency – John Russell
Bigger's a Wonderful Thing: Expanding Your Pipeline by Focusing on Mutually Beneficial Alliances – Brooke Saucier
Beyond Busy-ness As Usual – Melanie Schmidt
Are You Tracking the Metrics That Matter? Or Simply Reporting Numbers That Make You Feel Good – Michael Schuster
Overcoming Overwhelm to Serve Better, Think Better, Be Better! – Judy Whalen
As you can see, the contents of "We Wish We Had Known, Volume 2" span a wide variety of topics crucial for triumph in today's business environment, encompassing cutting-edge marketing strategies, effective leadership and team management, navigating financial challenges, embracing innovations in technology and digital transformation, and formulating strategies for adaptability and resilience in uncertain times.
Attend our Book Launch Party!
To celebrate this awesome achievement, MABC members are hosting a Book Signing & Launch Party!
Date:        Thursday, November 30, 2023
Time:          4:00 – 6:00 pm
Location:   Tingalls Graphic Design, 2939 S Fish Hatchery Rd, Ste 100, Madison, WI 53711 (lower level of Summit Credit Union)
At this event, attendees will have the extraordinary opportunity to engage with the authors, get signatures, and discuss the book's content. RSVP online at visit https://madisonconsultants.com/.
---
About Madison Area Business Consultants (MABC)
Madison Area Business Consultants (MABC) has a stellar reputation as a trusted source of expert advice and consulting, not only for businesses in the Madison area but also for those far beyond. Their unwavering dedication to supporting entrepreneurs and business professionals has positioned them as leaders in the industry.  The release of the organization's second book marks yet another milestone in MABC's commitment to fostering business excellence. This book is an invaluable resource for anyone looking to gain a competitive edge and achieve their business goals.
Purchase Volume 1 on Amazon >>
Purchase Volume 2 on Amazon >>