Tradeshow Dos & Dont's – A Tingalls Insider Exclusive
Exhibiting is a great way to increase awareness and create new leads for your business. Last night, Tingalls participated in the South Metropolitan Business Association's Networking & Exhibit event at The Coliseum Bar in Madison, WI. Because we're a small business, just like most of you reading this, we compiled this list of tradeshow do's and don'ts from our experiences at the event.
Don'ts:
1) Clutter with too many handouts – It makes you look unorganized. Attendees might infer that you're trying to do too many things and not doing any of them well. Instead try to pick a few services the attendees might be interested in and concentrate on those.
2) Sell at the show – The show floor is a great place to meet new contacts and open the door. It's not the place to close business. Gather people's contact info and what they're interested in. Then set up a meeting focused on their needs without a bustling crowd to drown out your conversation.
3) Eat or drink in front of your booth – It's hard to shake prospect's hands while trying to juggle a plate of chicken wings and the complimentary beer. Bring additional staff to give you breaks throughout the event so you can step away from your booth.
4) Forget to FOLLOW UP! Meeting someone at the show doesn't mean they're going to buy from you. Follow up to get their business.
Do's:
1) Know your goals – What will make this show a success for you? Maybe 10 good leads? Then make a plan to get there. Include  your message strategy, what handouts you'll use, and scripts for starting conversations with attendees.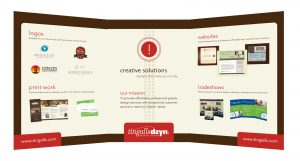 2) Get there early to setup – If you're like us, this leaves you time to rearrange your booth until it's just right. Or it gives you some breathing room in case something unexpected pops up.
3) Choose a heavy traffic area – Like on a corner by the door or between the food and the bar. Or next to the company giving chair massages.
4) Communicate quickly what you offer in your signage – Treat your booth like a highway billboard – short and sweet with less text and lots of imagery.
5) Be inviting – Talking to someone new at an event can be intimidating for attendees. Make it easy for them to engage in conversation with a free marketing promo or tip sheet.
6) Have a door prize – And here's why: It's a good excuse to collect business cards and make contacts at the show. Then, those who enter can be added to your newsletter list.
7) FOLLOW UP … REALLY! And preferably within 24-48 hours. We're repeating because it's important. Having a great conversation with someone at the show is a great foot in the door but it's only the beginning. Set up your follow up plan before to the show to make it easy the day after. Ninety percent of exhibiting companies forget this step, so the bar is set low. Follow up and your contact will be impressed!