Now's the Perfect Time to Perform a Website Health Check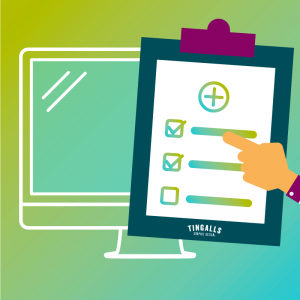 Just like a trusted employee, your business website depends on your ongoing commitment and support to work effectively. So, in a time where your online presence is an increasingly dominant portion of your connection to the outside world, it's more important than ever to perform a regular website health check.
This week, our team put together our "Top Ten" factors that create a strong, compelling online presence. How does your website fare?
1. Embrace Modern Trends in Website Design
Web design regularly changes, and current trends are always evolving. Obtaining trust and recognition comes from keeping up-to-date with these trends. Start with a design that won't become outdated by using a professional designer who stays on top of what's popular. Current design trends to watch for include:
Wider width design that is responsive to screen size
Larger images that pop and draw people in
A bold call to action with easy to recognize buttons that beg to be clicked
Interactive elements to inform and provide your viewer with fun eye candy that will be remembered
 2. Mobile Friendliness
A large portion of visits to your website happens via mobile rather than a desktop computer. Don't miss out by having a website that forces visitors to pinch and zoom to see text on small screens. Ideally, your website should behave appropriately across all devices including tablets, smartphones, and computers of all brands.
You can test how "mobile friendly" your website is by using any number of online tools like https://search.google.com/test/mobile-friendly
Ensuring your website it mobile friendly is a critical "must have" during your website checkup.
3. Optimize Your Images for Speed       
Images and videos are a great way to engage visitors but are you bogging your site down with clunky ones that take a long time to load? Bloated images or videos are often the culprits in a slow-responding website. You can check your site's speed performance at the Pingdom website for free.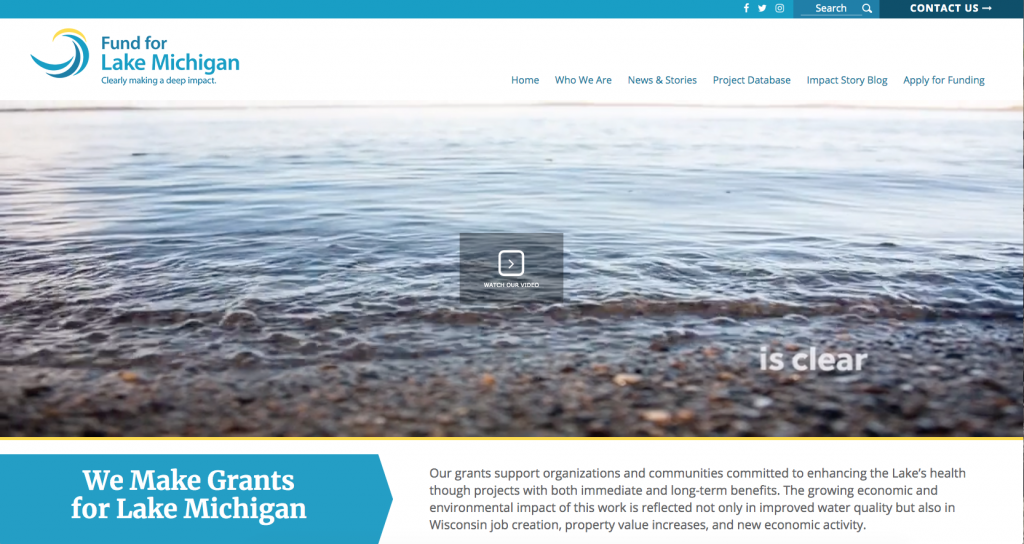 The Fund for Lake Michigan showcases lots of photography and video for their visitors. Luckily, everything is optimized so the website loads in 1.5 seconds!
4. Prioritize Content Over Design
Content is where a lot of websites drop the ball. All style and no substance let your customers down. Your website content should communicate what you do or sell, give examples, and provide evidence you're not only credible but the best. Follow these guidelines to make the most impact with your content:
Landing pages should be 300+ words or more in order to be indexed by search engines.
Break up your copy and make it easy to skim by using subheads, bulleted lists, text boxes, icons, and infographics
Add photos or illustrations to break up large chunks of content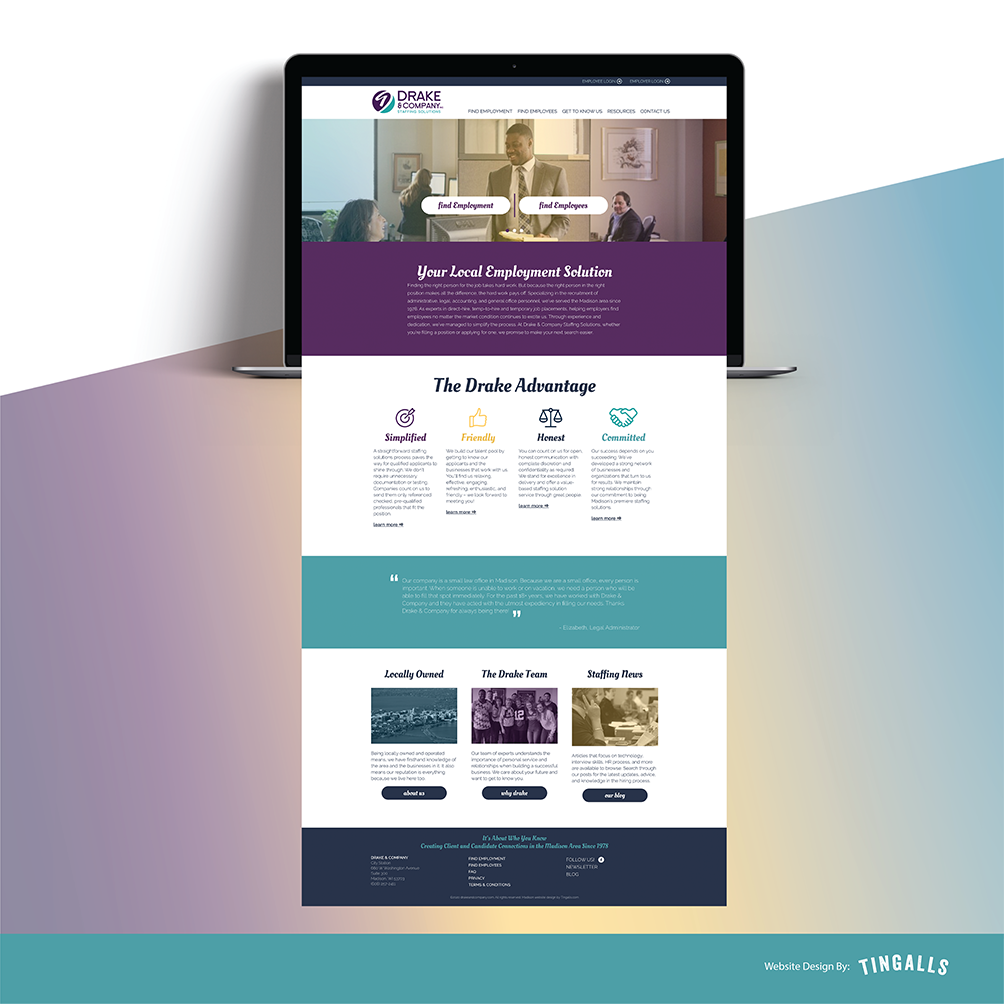 Lots of needed information broken up by images and subheads makes Drake and Company Staffing Solutions homepage easy to read and navigate.
5. Keep Keywords Relevant
If you want to rank well with the main search engines, you'll need to include industry keywords on each page of your website. Choose 2 or 3 customer-focused keywords and strategically place them on each page. That includes putting your primary keyword phrase in your title, subheads and beginning paragraph. You can read more about how to use keywords in your website in other blogs. Some online keyword-finder tools to try are:
6. Consider ADA compliance
Does your website design comply with the Americans with Disabilities Act? Following best practices for website accessibility include consistent, organized layout, meaningful content order and navigation, smart use of color and contrast, alternative text descriptions on all images, and descriptive headings and page titles. The site accessibility.dev offers a few free tools that break down your website and checks varying aspects of it, including a color contrast checker, a page tester, and a color picker.
(Not sure if your company's website needs to be compliant? Check out last week's blog for additional information on this topic.)
7. Create Compelling Calls to Action
Providing a path that asks your visitors to do something should be obvious. Answering the all-important question of "Why?" allows your viewers to make quick decisions without any hassle. Delivering information about you and your business creates trust. So, remember:
Include a BOLD call to action on every page
Make it obvious what you want them to do – fill out form, call, email, etc.
Each page should have a specific purpose and direction for your visitors
8. Attract New Audiences with a Blog
Well-written blogs help you make the case for why visitors trust your brand over others. But besides that, they help you and your website get found! By adding fresh content that promotes relevant keywords (as mentioned above) you're likely to attract searches that otherwise would have missed you. Provide content that matters to your customers by:
Knowing what they want
Being original with your take
Adding clear value
Making it easy to read
9. Keep Your Security Up to Date
Cyber threats are not only a big concern to you but also to your customers. Keep them and yourself safe by adhering to suggested online security measures like:
Updating your website's software regularly: By simply updating your website platform's software when you're prompted (or working with your web design team to do this for you) your site will be less vulnerable.
Creating very strong passwords – Create passwords that are at least 12 characters, upper and lowercase letters, numbers and symbols to prevent hacking.
Installing a Secure Sockets Layer – Including an SSL certificate to your site means your website now is able to form a secure, encrypted connection with each visitor.
10.  Check Website Performance with Helpful Online Tools
There are many useful tools and functions you can add to your website based on the platform you've chosen. Choosing the right ones can improve your website for the user experience and point out potential issues with flow and content in your website design. You can find ones that will perform a variety of very useful tasks like finding and fixing broken links or monitoring your site traffic as it happens. Here are some of the more popular tools we utilize with our clients:

Tools like Hotjar shown above can shed valuable information on your visitor's behavior and usage of your website.
Don't Underestimate Viewer Perception
Your customers' perception of your website reflects their overall perception of your business. Attracting and keeping a website audience is more competitive than ever. If you don't keep your website up to high standards, you risk getting left behind.
————-
Remember there are plenty of website health check factors to keep in mind. Tingalls Graphic Design has the experience to help. We're here to make sure all the boxes above are checked for a strong online presence. Give us a call at 608-268-5525 or contact us online to learn more.