2022 Bucket List Downloadable Freebie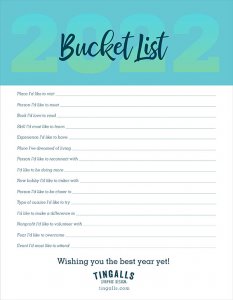 Are you excited to start something new in 2022? 
Do you have friends you'd love to reconnect with?
Isn't it time you took that vacation?
Set your intentions for 2022 with Tingalls fun downloadable Bucket List!
Now more than ever it's important to take time for things you enjoy in life. Doing things you enjoy with the people you care most about can make you feel energized and keep burnout at bay.
Check out Tingalls 2022 Bucket List and start recharging those batteries in the new year!