Why Tingalls Loves Squarespace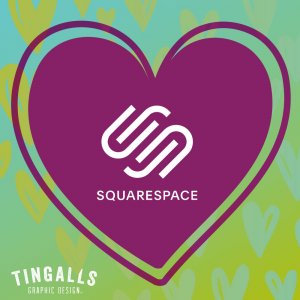 If you're looking for a low-cost, quick way to get a professional website, we recommend Squarespace. We've been working with this platform since early 2020 and have launched over 80 websites in just 18 months.
Comparing this platform to WordPress, one of its biggest differentiators is because it's a hosted web platform, you don't have to worry about software updates or plugins. Because of its saturation in the market, WordPress has become a huge target for spam and hackers so if you're not keeping up with these updates, your site can become vulnerable very quickly.
If that's not reason enough, below are 12 other reasons to make the switch!
One-Stop-Shopping
If you're just starting up, you can register your domain and your hosting is built-in so no more guessing where all the pieces of your online presence "live."
Free Email for a Year
Squarespace interfaces seamlessly with Google Workspace so you can set up and manage all your email accounts with one login. And, currently, they're offering one email account free for one year.
Award-winning Page Builder
While we may start with one of Squarespace's eye-catching templates, our design team has an extensive coding background to custom-design your site to match your brand and appeal to your audience.
Mobile-Friendly Code
With mobile-friendliness now a search algorithm must, their platform offers mobile-friendly code already built-in, so no more overlapping sections or weird margins.
Intuitive Content and Photo Editors
Our clients have shared they absolutely love how user-friendly and intuitive the text and photo editing tools are; even from those with little web experience. They can even bulk-upload photo galleries saving them a ton of time.
Showcase your Portfolio
Present photo galleries or case studies using Squarespace's professional portfolio designer. You can even password-protect pages to share privately with clients.
Blog More
This platform offers a powerful blogging tool for company news, product releases, and/or white papers. You can also showcase blog articles using category tags on specific pages in your website vs. just listing all the articles on one page.
Built-in SEO Tools
Every Squarespace website comes with a suite of integrated features and useful guides that help maximize your website's visibility among search engines.
Simple Analytics
Are Google analytics too robust and confusing? Squarespace offers traffic statistics and analytics on how customers are interacting with your content in a skimmable format.
Software Connectivity
We love how easily we can integrate third-party apps like Constant Contact, Calendly, and more. And, you can also utilize Zapier to connect form submissions with your office's CRM to eliminate duplicate data entry.
Robust Online Stores
Another feature we were blown away with was how quickly and easily we can build online stores. It offers integrations with PayPal, Stripe, and Square merchant providers. Add coupon codes, manage your clients orders and connect with their Email marketing platform as your all-in-one customer relations manager.
Edit on the Go
Squarespace even offers an iPhone or Android App for edits on the go or quick updates to online inventory in your store. How's that for versatility?!
We truly believe Squarespace is the most simple and user-friendly website building and hosting platform we've ever worked with. We'd love to schedule a demo via zoom if you're interested in learning more. Or, if you're looking for a website quote, click here to get started.
---
Below are just a few of the dozens of websites we've created in the last 18 months: