Website Backlinks Build Confidence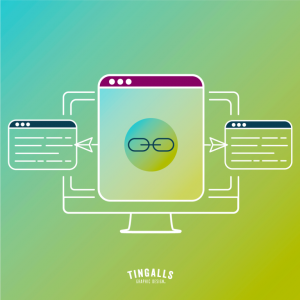 You've built a website with content geared toward the type of customer you want to attract. You researched and used the keywords your customers search for within Google (or other search engines), which means you've made the first steps in getting your website found. But as strong as your keyword efforts may be, it's only the beginning of getting and keeping your target customer.
To create a website that will continue to bring in a new and evolving audience, you need to be seen as part of a network of authoritative websites in your community and industry. The best way to do that is to earn backlinks to align you with those sites. To put it simply, you want sites that your desired audience already frequents and trusts to mention and positively share your website.
What is a backlink anyway?
A backlink is often referred to as an "inbound link" that points internet users to your site from other sites. It can be any internet source that references your website, including social media, other website blog posts, web directories, local resources, or news sites. Even job posts count as a backlink! Credible links that point to your website build confidence in its content from not only your audience but from the search engines' algorithms too.
Earning relevant backlinks can positively affect your site's ranking position or search visibility.
How do I earn backlinks?
Most importantly, worthwhile link building starts with content that's worth linking to. From there, you'll need to look outside of your website and reach out to your online community to create critical connections. It's a lot to take in, but there is no doubt that it is worth the effort.
Here are a few straightforward ways to help you start building links right now.
Reporters, bloggers, etc., are always looking for someone to quote – put yourself out there as an available source when the topic is something you are an expert on.
Improve and update your existing content regularly by adding informative blogs and/or case studies. Remember to reference and link to clients and industry professionals. Hopefully, they'll return the favor one day!
Get active on social media. Gain a following by posting reliably and creating useful content that encourages shares. Follow, share, and comment on other's social media posts as well.
Offer to write a blog for another complementing website or invite someone (from a credible source) to write on your blog.
Leave informed comments on the blogs you and your customers admire.
Subscribe to ALL relevant web directories and keep them up-to-date.
Go local by following and commenting on the websites and social media of organizations in your community like the chamber of commerce.
Donate and/or sponsor events, venues, charities, and non-profits ( often they have donor pages).
Include a website link in your email signature and use email to thank any sources you mention in social media or on your blog.
Create and promote a useful resource that can be shared, downloaded, printed, etc. Make it available on your website.
Post a job on credible job sites and follow up with any interested applicants.
Write a testimonial and sign your name and business name.
BEWARE: You only want credible websites connecting to yours. There are bad actors out there that will sell you as many backlinks as you'll pay for, but you'll find that most of these type of businesses offer links to sites that either has nothing to do with your industry or are ones you wouldn't want to be associated with. If you go down this path, your site could get flagged as not credible because of it.
It's worth the effort
Creating a variety of fresh, valuable content that addresses a broader audience's questions or concerns is the only real way to build a successful backlink plan. The reward for all your hard work will increase your website traffic and create higher search engine result rankings.
If you have more questions or just want to get started on creating your business's website, contact us at Tingalls Graphic Design. From design to content, we can help get your website up and running fast and even help you strategize a step-by-step backlink plan that's manageable and achievable.