10 Questions You MUST Ask Before Hiring a Graphic Design Firm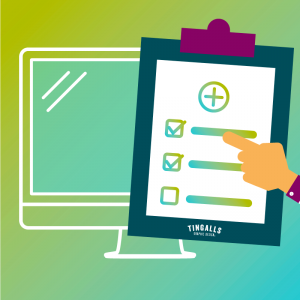 Finding the right professional for your next design project doesn't mean you have to be super creative yourself. It just means you have to know the right questions to ask to find the best designer for you – someone who will click with your team and your company. Here are some questions to help you discover if the design firm you're considering has the conceptual and collaborative skills, attitude, and the design mojo, to be a part of your creative team.
1. How long have you been in business?
A firm that has been in business for a long time will likely know the ins and outs of marketing. Experience with a variety of clients allows them to show a vast and diverse portfolio. Inexperienced designers may be creative and even energetic, but without a solid background to back up their design, they'll lack the knowledge to take it to the next level. Look for a firm that knows all aspects of marketing, including branding, print, and digital design. With 20 years in our back pocket, and knowing our company has grown mainly through word-of-mouth and networking, you are in great hands!
2. Do you have examples of work in my industry?
It's not necessarily a deal-breaker if they don't have a full breadth of experience in your industry, but similar industry experience can be beneficial. Once you've discovered what they've genuinely contributed to, find the pieces that you like best so you can ask questions on their involvement. Understanding the depth of their strategy from conception to execution will ensure they can tackle your needs in its entirety. Having been in business for over 20 years, we've worked with many, many industries in all shapes and sizes.
3. Who owns the artwork when my project is done?
In some cases, the designer owns the actual art, but the client is paying to use it. This can be problematic down the line when you want to either switch agencies or use the artwork on your own. Make sure that you will own the artwork after your project is done. Your designer will be able to explain how the hand-off works upon completion (see #10 below).
4. What software platforms do you work in?
Even though you are not a designer, you'll want to familiarize yourself with some of the tools designers use. Knowing if they are proficient in more than Adobe InDesign will tell you what they can deliver. Skills in photo manipulation, illustration, infographics, 3D design, or photography will come in handy for more extensive marketing projects down the line. Be wary of designers that work in non-custom-design programs such as Microsoft Word and Canva, or outdated programs like Quark and Pagemaker.
5. How long is your design process?
A good design firm will guide the process to meet a reasonably fast timeline (Tingalls turnaround is five business days!) Before our team gets started, we ask a series of questions to create a project brief which provides us with background information on your company, target audience, marketing goals, intended use, etc. Keep in mind, a design firm with a lower hourly rate might take twice as long so be sure you ask for a complete start-to-finish proposal before signing on the dotted line.
6. Who will be working on my project?
You'll want to know not only about the firm as a whole but also about the individual designer that has been assigned your project. It's essential that you feel comfortable talking to them personally and can collaborate effectively with them. Ask for examples of the specific pieces that they have produced. Also, inquire about their track record with deadlines and how they work with others to get things done.
7. How do your designers stay creative?
An experienced design firm will have a well-tuned collaborative process that encourages each designer to challenge each other. The designers will have unique styles but will continuously learn from one another when undertaking a project. Respecting the diversity within a creative group allows the designs to remain fresh but still fulfill the market demands. Each Tingalls design team member is offered four hours of paid professional development time to hone their craft, enhance skills, and research and practice current design trends.
8. How do you handle revisions/change requests?
Some design firms will include a certain amount of revisions in their initial design price, others will not include any revisions. Be sure you know how many change requests are included and also what the minimum change order is. Ask to be notified when you've exceeded initial quote as well. At Tingalls, we're very conscious of our client's budgets and are in constant communication in regards to estimate vs. actual cost.
9. What will be our main communication channel during my project?
Good designers want client feedback and strive to understand your vision. Communication should include sharing insights and providing options for design. You want a designer that stands by their work and can guide you appropriately as experts in marketing but not someone difficult or secretive.
10. What will be my project's "deliverable?"
Project hand-off when it's complete is something not to shy away from. You want a design firm that makes the final exchange a smooth process. Ask  if they recommend a specific file type for archiving your project and/or sending to press. What training or instruction will they provide regarding the source files? Considering the future needs of their clients should be significant – not just rushing through the job at hand.
Now that you have a better idea of what questions you should ask to get the best fit for your next design project, we'd love to talk! At Tingalls Graphic Design, we offer flexible, affordable results, and a turnaround time of five business days or less for your initial design concept. To learn more about our team, services, and how we can help you contact us today.