How a Website Redesign Improved User Experience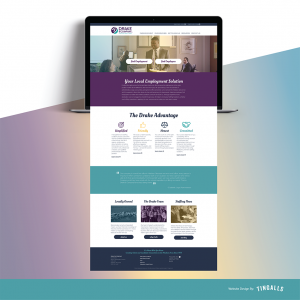 An outdated website can have a significant impact on how your business and how your team is perceived. And even though it's not a task to take lightly, a website redesign could be the boost your business needs. After all, your business website is the ambassador of your brand.
It's important to note that you don't necessarily need to change everything on your website during a redesign. There may be elements that are working and that you want to keep. In fact, the right changes will take the best and make it better while improving on the rest. This was precisely the case in a recent redesign we undertook with the local business, Drake & Company Staffing Solutions.
The Need for a Website Redesign
Drake & Company Staffing Solutions had a web presence but were not getting the results they wanted. They wanted a redesign that would focus on their two types of customers, providing clear paths for them to get what they wanted from the site. The result ultimately was a better user experience for both employers and employees wishing to make contact with one of Drake's staffing professionals. 
Meet The Client
Drake & Company has served the Madison area as experts in direct-hire, temp-to-hire, and temporary job placements since 1978. A locally owned and family-operated staffing firm, they specialize in the recruitment of administrative, legal, accounting, general office personnel, and more. They team up the best and brightest candidates with companies throughout the Madison area. 
"Tingalls worked with us to create a user-friendly website that ended up being easy to navigate even by someone with little website experience. They understood what we were looking to achieve and have been a great support."

– Kelly Starr-King, President
The Groundwork for a Website Redesign

The key to any successful small business web design is detailed research at the company level. To build a website that works well we needed to understand:
the face of the business

what they stand for

all those things that make their service special

who their customers are

what their customers need
As a company that has been in business in Madison for over 40 years, Drake & Company has a distinct place in the market. Their staffing professionals are busy people who juggle a slew of local employers and hundreds of employees. The website needed to collect and present information in a way that worked for both client groups. Drake's staffing professionals required a simple way to receive relevant information privately plus an easy way to make contact.
Clear Goals:
Increase awareness of the brand in a growing, competitive marketplace

Keep personal information private

Update the look to be more current

Improve the customer experience

Attract and recruit new employees and support existing employees

Integrate with other systems; meet security, performance and scalability requirements

Simplify and optimize content updates and website management
The Challenges of a New Design

Slimming down the website dropdown menus was the first challenge. That task was made significantly more accessible with a hands-on approach from the Drake staff who gave valuable input.
In tandem with organizing the new site, the designer went about modernizing the company brand. The new look was applied to the site using strict guidelines that considered consistency and quality throughout the site.
After accomplishing the above, we needed to consider privacy and to incorporate an existing job posting service. It took a bit of research and a few wrong turns, but the solution we implemented provided a lot of benefits.
Potential candidates can now locate a new job using the familiar interface. They can search by keyword, location, job types, and categories to find the job for which they are best qualified.
The employer can also add, delete, or update the job listing information themselves using a helpful, user-friendly management page. The website instantly updates with the changes.
Creating the Strategy
Above all, the strategy for this project was to keep things simple while still providing what both set of Drake clients (employers and job candidates) needed from the site. We achieved this by developing distinct service pages that provided clear facts and background information, along with excellent detail for both groups. Each audience was presented with clear paths through the site to get what they needed quickly.
The updates provided a way for the Drake staffing experts and their clients to work within the website to help work faster and more efficiently.
"From our initial interview through to the final tweaks, they showed patience and encouragement. I would recommend the Tingalls team to anyone looking for a great website for their business."

– Kelly Starr-King, President
The Results
The new website launched and is attracting plenty of positive feedback. Overall, the redesign is a massive success from many perspectives. The brand has a lighter, modern look that still honors the Drake & Company history. Furthermore, the navigation path for both of Drake's clients has an even, helpful flow that still feels familiar only better. Also, the Drake & Company personnel are able to provide website management and site updates as required.
In all, the Drake redesign makes for a better user experience without losing the essence of the brand.
If you'd like to know more about what it takes to redesign your website, call us at 608-268-5525 or contact us for a free consultation.