How to Use Yoast SEO for WordPress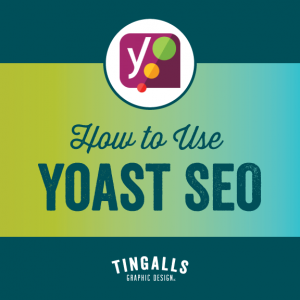 Yoast SEO is a must have option for any WordPress website. It's a free plugin that allows you to control some of the information that your website pages send to Google. This helps Google interpret your website. You can use Yoast SEO to manage on-page SEO factors. Factors like SEO page titles, SEO descriptions, and even the "readability" level of your page. You do have the option to buy a premium Yoast SEO plugin for some extra functionality. The free version, if used correctly, will give you the information you need to make improvements to your website's SEO regularly.
Google is Judging You
To date, Google uses over 200 properties to check each page of your website when deciding if your website should be displayed in a user search. So, it's up to you to make the most of these SEO opportunities. With this in mind, let's take a look at how Yoast SEO can help you.
Yoast is available for installation from within WordPress. Once installed, you'll see Yoast SEO in the WordPress Editor. It's available in your standard pages, news, and article pages, as well as your blogs and even your product pages. The functionality part of Yoast is located at the bottom of each of these pages, so it is easy to be missed. It's essential to complete the Yoast SEO section for the pages of your website that you have strategized to be SEO-friendly "landing pages."
Setting up Yoast SEO
The first thing you need to do to use Yoast SEO  is to enter your focus keyword. Your focus keyword should be in the page title, the URL, and the body of the first paragraph. It also needs to be present in the SEO title and the meta description (for more information about what all those terms mean and how to write SEO-friendly content, read this post).

If we now scroll down and click on "Edit Snippet", it gives you a chance to include your SEO meta description. Leave the slug alone. It just shows how your SEO title will be seen on the search engine results page. If either line turns to orange, you've hit the maximum characters recommended. You'll need to shorten your title and/or your description if this occurs.
The recommendations do occasionally change. In other words, Google sometimes decides to give you more or less space in this area. Yoast keeps track of those changes. You should check Yoast SEO on each page regularly to see if your line color has changed.
Yoast SEO is Judging You
If you scroll down even further, you'll see an analysis of your SEO efforts, according to Yoast. Ideally, all dots will be green. Green dots mean Yoast believes you've done well based on the keyword you entered in the plugin. Keep in mind that, some website themes and websites platforms prevent Yoast SEO from reading all your SEO efforts. This means you may see some gray, orange, or red dots (don't panic – we'll cover that!).
Gray means not enough information to evaluate

Green means there are good SEO results

Red means the page has SEO problems

Orange means needs some improvement
It would be best if you didn't get too hung up on the color of all the dots. There will be webpages that you'll be less concerned about SEO on and others you'll want to concentrate more of your efforts towards. A long as you follow the standard SEO procedures that Yoast suggests and change the items you can control, you should be in good shape. However, if the entire analysis comes up with red dots, then that is probably an indication that you need to do a bit of work on your on-page SEO.
Your Readers are Judging You Too
With Yoast SEO, you can also go into the readability tab to see how easy your content is to read – at least for Yoast. Unfortunately, Yoast SEO can't pick up all your efforts and strategies in this area, either, but it's one way to check your writing. Again, don't get obsessed. Your obsession with turning a red dot to green could be counterproductive. A full score of green dots doesn't always mean your content is easier to read. It could mean that you've made it so concise that it's downright cryptic and no longer resonates with real people.

The Red Dot is Not Your Enemy
As we mentioned above, Yoast SEO will occasionally give you the advice to change parts of your webpage with a RED DOT placed next to an analysis point. You may try to make the necessary changes based on that suggestion but end up pulling your hair out because no matter how you do it, your content becomes illogical or even downright absurd sounding. It's up to you to keep things in perspective and remember that Yoast SEO looks at your content from a strictly analytical view. You are, in the end, writing for humans, not machines. So, don't feel obligated to make changes that would make your content sound strange. Write naturally, concisely, and for your audience, and you'll have a user-friendly website that is bound to attract more than just search engines.
Think you'd like some help with SEO?
Throughout the process of creating a new website or analyzing an existing one, you're going to need to keep SEO in mind. By now, you know that Yoast SEO can help not only improve the SEO of your web site, but it also can help improve the overall user experience. You also know that it's a lot of hard work. Luckily, you don't have to brave it alone because Tingalls offers professional SEO copywriting that works with you and your Yoast SEO plugin. We can help you set up your website to be SEO-friendly. We'll also go through using Yoast SEO so you can manage it yourself years from now. Armed with the above information you've got the basics to begin your SEO journey either on your own or with a partner like Tingalls. Contact us today for more information on creating an SEO-friendly website.