10 Ways to Optimize Your Trade Show Experience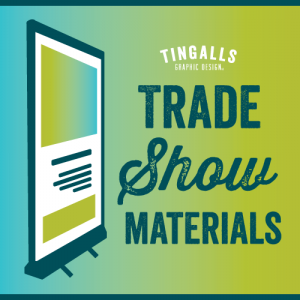 If last year's local shows are anything to go by, attendance at trade shows continues to be popular for both consumers and businesses. According to the Center for Exhibition Industry Research, Wisconsin saw a healthy increase in trade show visitor numbers and it's a number that is expected to keep growing. The crowds are not just fueled by the general public; a good local trade show attracts a number of out-of-town visitors and offers exhibitors b2b opportunities as well.
However, exhibiting at a trade show often represents a considerable investment for companies, but, if done right, it can be well worth your efforts. Tara Ingalls, the owner of Tingalls Graphic Design, recently spoke to the members of the Fitchburg Chamber of Commerce on how to prepare and get the most out of this opportunity. The takeaway she stressed during her presentation was making sure you STAND OUT. Easier said than done because, according to Tara, it's not only essential to have an eye-catching display but also to generate multiple ways for you and your staff to engage with visitors.
To ensure your brand connects well at your next show read on for Tara's top 10 ways to prepare for a trade show:
#1 – Plan ahead for every trade show
Excellent plans and great organization lead to the best possible outcome in any situation. That is particularly true for a trade show event. You will have plenty of time to prepare if you look ahead and plan out what shows you want to attend and why you want to go to them. Every good plan starts with an important question that becomes a well-formed vision. Ask yourself:
What are your goals?

How will you define success? Ten booked appointments, sign-ups for a seminar, home visits?

What is your specific goal? The more specific your goal, the easier it is to create an action plan to achieve it as well as to measure return on investment

Who will be attending? Know your audience. Are they decision-makers? What is their age/gender/household income? 

What does the audience want? Ask questions that will help you determine why the audience is coming to this tradeshow.

How much is it going to cost? Remember to track all expenses. Tradeshows are expensive, not only the booth itself but the employee's wages to run it, cost of marketing, signage, etc. 
#2 – Advertise your next trade show in advance
The old "build it and they will come" attitude towards tradeshow display just won't work. Even if you've got a terrific display, if people don't know you're going to be there, they won't look for you. Like any marketing plan, your tradeshow planning needs to start with a strategy. As we said earlier, it is vital to stand out, and that means even before the show begins.
Use social media and email marketing to announce your attendance at the show at least three weeks ahead of time

Invite people to visit your booth for a free give away – EXAMPLE: $4000 value for 50% off a custom home design

Snap a photo of your booth set-up in your office and shoot a quick video inviting people

Mail or email a special coupon people can bring to the event for a unique gift
#3 – Design your trade show booth for impact
No matter where your booth will be positioned, you want to maximize your space. It's a good idea to leave it to the professionals if it's in your budget because the layout/design of your booth will either attract people or turn them away. A few other things to remember are:
Too much sales collateral or clutter is overwhelming while not enough doesn't make you look credible

At the very least have a clear sign highlighting your top services, bowl to collect biz cards/drawing, candy or promo items as giveaways and business cards

Location of the booth is also significant -if you can, get near the food and away from any noisy entertainment or DJ

Get in front! Try not to sit behind a table; you'll have more energy standing

Better yet, remove chairs and invest in a podium to lean on, or bar height chairs, so you're eye-to-eye with your visitors
#4 – Create engagement at your trade show booth
Audience participation around a display will vary depending on the duration and depth of involvement that can be driven. Without this, your trade show experience will be unmemorable, and your brand's exposure soon forgotten. So, give people a reason to "come in and take a look."
Some examples of ways to engage your audience are:
Make your booth engaging, fun and colorful 

Rent a photo booth, make sure the photo has your company logo on it or even better, don't print the image and collect their email so you can send the photo along with information about your company

Hashtags – Ask people to take a selfie with a cardboard cut-out, banner, or something with your company's logo. Ask them to social share it to Instagram or Facebook with a particular hashtag for a chance to win a drawing after the event

Get all Senses involved – A well-designed booth may LOOK good, but what if it also SMELLED good or … TASTED good??

Games! 
#5 – Make your trade show giveaways count
People come to tradeshows for free food and cool swag. It's a fact you can't get around. However, if you give stuff away, make it count for your business! A few giveaways you can try are:
Give away a free product or service, then everyone that enters is a potential prospect. 

Select 1-2 winners and then offer the remaining entries a discount on the same service 

Offer something of value that relates to your business; something with staying power that relates to your business, such as:
#6 – Have a GOOD opening question
You can't get around the folks that attend for free food and swag. But you can weed them out with a good opening question: 
What brings you to the show today?

Have you ever heard of XYZ service before?

Want a free sticker? 

Can I offer you a free sample?
#7 – Speaking of samples – bring them to the show!
Bring sales collateral and brochures, offer demos and samples because items people can touch and feel will make a lasting impression. Sampling is also one way to allow your exhibit to stand out by:
Enabling potential customers the opportunity to test your product

Giving the customer something branded to take away with them.

Being an easy, cost-effective way to market your product or service

Creating expectations of your brand

Increasing the likelihood they'll seek you out again
 #8 – Man up – Your trade show staff matters
The face of your company is your staff. Make sure you present the best of the best every time you participate in a trade show. Please don't bring your intern (unless they're there to listen and learn). You want knowledgeable staff at these events, people who can potentially make sales appointments or sell right on the floor
A few other rules to live by when it comes to staffing your booth are:
Be sure you have someone at your booth at all times. Two is ideal, someone to work the booth, someone to walk the floor.

Every 3-4 hours is the ideal length of time to spend at a booth before a break is needed.

You never know, your prospects might be at the booth right next to you

Wear clothing with your company logo if you can, or a nametape with your first name and company logo visible 

Wear comfortable shoes        

Put down your phone! Just the mere presence of the phone makes people feel like you're not engaged
#9 – Prompt follow-up makes the difference
Part of the recipe for success of your trade show efforts is in the follow-up. In fact, the follow up is the essential step in your trade show efforts.
How many business cards do you have that you haven't done anything with yourself? You don't want your business card to be stuck in the no-fly zone on someone's desk. So many people fail to follow through that often, if you do, you'll get the sale because you're showing interest. Here are a few great ways to follow-up while expanding your trade show efforts:
Make sure all hot leads are called immediately (within 48 hours at the least!)
Include an image of your booth and/or brand to job their memory
Make each follow up personal – generic emails will always be ignored!
Add all leads to your CRM or at least to your email marketing lists
Check social feeds and reach out through them for people posting about the event
Always send a thank you to business partners who helped and those who showed interest on the day
#10 – Remember to have FUN!
Sometimes we all need reminding to lighten up! Interacting with people who are interested in your business shouldn't be a drag! It's why you do what you do. You know you have a terrific product and offer a fantastic service – now go out there and have some FUN!
Let Us Help You at Your Next Trade Show
Tingalls Graphic Design offers customized trade show display options, perfect for use at your next trade show. Our team also has designed a large assortment of branded items for a slew of local businesses. Visit our event area for more information and ideas. We also offer a free tradeshow planner (contact us for a link to download) to help keep you on track and get you ready to put your best foot forward at your next event! Contact us today for a no obligation consultation and quote.