The Strength of a Strong Company Culture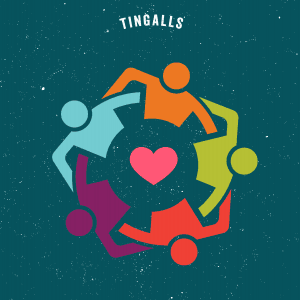 Every business has a culture but not every culture is good for business. Workplace culture can make or break an organization. A poor environment at work, according to Forbes Magazine, creates a low employee retention rate. That news gets around fast making hiring good employees nearly impossible once they've heard the gossip. Not only that, but production among disgruntled employees drops significantly. On the flip side, a workplace environment that inspires employee satisfaction means higher retention and better work performance. Simply put, companies perform better when the employees are happy.
Tips from Tingalls for a Happier Workplace
We don't want to brag, but we think we've got a pretty awesome culture and most days you're sure to catch us smiling. But we don't mind sharing. Read on for some of our best practices that make Tingalls a great place to work.
Create Effective Company Communication: At Tingalls, we not only boast award-winning website design and print collateral, but we pride ourselves on a positive work environment. Regular staff meetings that inform everyone on company updates is the key to our success. By keeping everyone in the loop, we feel aligned with the bigger picture. Encouraging participation and making time for everyone to have a say sets us up for a productive week. Acknowledging staff's personal triumphs in front of the group is a low-cost gesture that goes a long way to show appreciation. A celebration of client kudos and making time for regular cheers for peers keeps morale up and motivation high.
Reward Employee Engagement: When an employee's goals and interests line up with the company's, you're well on your way to a happy synergy that results in success on all counts. We foster relationships among each other by allowing time out during the day to have a bit of fun and interaction. A quick 15-minute game of spoons doesn't take massive effort but keeps our employees connected and the mood light. The result continues to be higher productivity and happier employees.
Make Time for Professional Development: Encouraging new ideas and creative motivation in the form of professional development among Tingalls employees is why we have been in business for almost 20 years. Each of us receives monthly professional development time where we're encouraged to take time to enhance skills and fosters life-long learning. Owner, Tara Ingalls, has a philosophy around staff development. "In our industry, you must be at the top of your game," she said. "By allowing Tingalls employees to enhance their own professional development, the entire company becomes more valuable."
Protect What You've Built
Your company's culture is something your company will be known for whether you have control of it or not. So, once you start seeing positive changes and noticing the difference among your employees don't rest on your laurels. Instead, monitor the environment, question the staff and protect what you've built. Another small shift this way or a bit more of a shuffle that way might just be what it takes to make for a perfect fit.