Tingalls Collects 4th Consecutive Award for Madison's Best Website Developer from InBusiness Magazine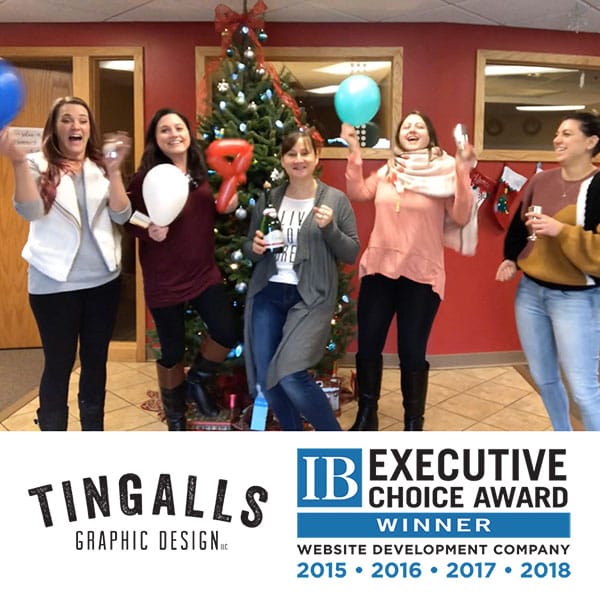 Tingalls Graphic Design is wrapping up 2018 on a high note with the announcement that, for the fourth consecutive year, they've been voted the area's best website development company in InBusiness Magazine's Annual Executive Choice Awards. The winners are determined by majority vote of write-in ballots from 1,000 Madison executives, business owners and decision makers and honor businesses across a variety of industries for excellence and proven success.
Tingalls Owner and Creative Director Tara Ingalls says this kind of acknowledgement is what fuels her passion every day. "We've served well over 1,000 clients since I founded the firm in 2000, and we strive to bring energy and creativity to projects of all shapes and sizes," she said. "Starting our 19th year in business and once again receiving this honor is a wonderful validation of the effort my team puts forth for every single client we serve."
One of those satisfied clients is Madison-based Information Technology Professionals (ITP), which delivers complete IT service and strategy for small- to mid-sized businesses. "We had some interesting ideas and very customized needs for our website, and Tingalls worked with us every step of the way to refine our vision and bring it to life," says Ellie Sherven, ITP's Director of Marketing. "And it didn't stop there. Our website is not just a static representation of our brand, it has become the living, breathing thing around which our online presence continues to grow." (Tingalls was honored earlier this year with a Silver Addy at the 50th Annual American Advertising Federation awards for their work on the ITP website).
Along with customized and eye-catching designs, the Tingalls team has a deep understanding of website functionality. With so many clients served and designs in their portfolio, their work has proven to help clients do everything from improving efficiency to boosting search engine ranking.
"Because of their WordPress Made Simple platform, even without experience and knowledge with websites, we're easily able to effectively manage the website ourselves on a day-to-day basis," says Kristin Rucinski, Executive Director of The Road Home Dane County.
Looking ahead, Ingalls comments, "2018 has been an exceptional year, and we're so grateful for the honors that have come our way. But, at the end of each day, nothing makes us happier than a satisfied client."
In addition to website development, Tingalls provides logo design, print collateral and trade show design services, and is known by clients for its artistic, inspired and original design work delivered efficiently within an unrivaled five-day turnaround. The firm's commitment to community shines through with a regular slate of pro bono work and through a series of fun and free educational events.