A Tingling Sensation: Project Success
It's not your Spidey-Sense tingling, you're feeling Project Success. It's what we at Tingalls Graphic Design call "The Awesome Index." At Tingalls we deal with awesome all day, so we're not willy-nilly with the term Project Success. It's a direct result of our creative process. Today's blog is about one of our recent success stories. We're going to talk process, actions and results, the things we do at Tingalls Graphic Design to raise our clients Awesome Index.
How the Awesome Index is Calculated

Strictly speaking, the Awesome Index is a holistic score; derived from cumulative factors like client satisfaction rating, change in tangible metrics, as well as the overall project success.
Case Study: K2M – Insurance Management
K2M came to Tingalls Graphic Design with no printed collateral, literally, only a name and an idea. The client needed everything – logo design, business cards, palmcards, retractable banner, copywriting and a website. That's a tall order right there, but there were a couple more factors that made the situation eligible for the Awesome Index. The first challenge was an incredibly tight timeline. The second was a design opportunity – an 11th hour company name change. There are the factors: time, branding and the sheer volume of materials necessary to call this a project success. Here's how it went down:



Our Senior Graphic Designer, Whitney, said, "The challenge with K2M was to come up with a completely new brand and its collateral materials in the span of about four weeks (everything from logo and business cards to a website and tradeshow materials). This was a tight deadline considering the amount of things that needed completing. We were able accomplish this by working closely and collaboratively with the client, and due to the clients strong brand vision, enthusiasm and commitment to deadlines."
Client's Testimonial:
Mid-Project:
'I couldn't be more pleased with the marketing team. I've gotten great responses from partners and friends alike, and of course I have enjoyed the entire process, rushed as it was. Katie and Julie were great finds and I hope they, or at least Katie, are working well with your team on other projects. Kudos to Whitney, Joey and JoAnna.'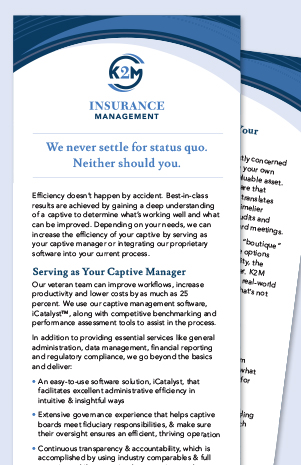 Project Conclusion:
'One of my criteria for working with a company is how much I enjoy the people I'm actually doing the work with. Having been delighted by Tingalls work with a previous company, I challenged them with a brand new company that whose brand strategy was still on a yellow pad with not much more than a strong vision for a business plan. In four weeks, we had to have a logo, business cards, stationery and envelope templates, and a fully functional website. Not only did we have a lot of fun working with Tingalls, the timeframes were met, the project was under-budget, and the results speak for themselves – we couldn't be more pleased.'
This project success benefitted from the working relationship between the design team and client, something we strive to nourish at Tingalls. Overall Awesome Index: 9.9
Okay, maybe we're a little biased. Why don't you drop us a line, we'll chat about your project and see if we can't get your Awesome Index up?