Tingalls Joins Dane Buy Local
For more than ten years, Tingalls has served Madison and surrounding communities with quality, affordable graphic design and marketing services. In addition to helping Madison-area businesses achieve their branding goals, we've also aligned ourselves with local companies to offer a full package of marketing, website design and branding services. Just last month we cemented our commitment to supporting local business by joining Dane Buy Local!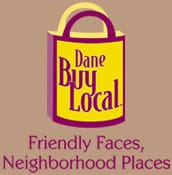 What drew us to Dane Buy Local? At Tingalls, the idea of supporting local business is not just a passing trend; it's a core philosophy we've practiced since 2001. Tara began as a small start-up business with a few local clients. Ten years later, we have experienced exponential growth thanks in large part to word-of-mouth advertising in the community (and a lot of hard work!).
Similar to the way Tingalls has grown organically over the years, Dane Buy Local is truly a grassroots organization. It helps connect member companies, encourages small business growth, and of course promotes keeping business in Dane County. Through breakfast meetings, evening socials and educational seminars, we have the opportunity to connect with even more Madison business owners.
Tingalls is very proud to be one of more than 500 Dane Buy Local members serving Dane County. Check them out at danebuylocal.com. We all grow together when we keep business local!