Creating an Online Video to Promote Your Brand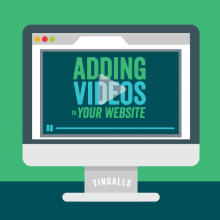 Want to take your marketing up a notch by providing online content that gets your customers asking for more? The average internet audience is after quick answers — so a visual like a video does the job that a long article simply can't do and reaches more people. Creating an online video to promote your brand can achieve amazing results and provide an awesome experience for your target customer.
As more opportunities to post even more information online comes about, video marketing has become a powerful part of the environment for sharing information. Video has a lot of advantages too. Videos stand out and are shared more often, and you can produce one on a relatively tight budget.
Video Content Excites
Video content is a valuable addition to your website, blog, or social media presence. In fact, by the end of last year, video content represented nearly three-quarters of all internet traffic, according to Kleiner Perkins' Internet Trends Report 2018.
The challenge, even with videos, continues to be getting people to absorb your entire content. The fact that it comes in video form doesn't change that. The longer your video, the more likely that your viewers will drop off. To avoid that is quite simple. Make an engaging, informative video that answers your audiences' questions – yes, easier said than done! Remember that your video will be judged on its content, presentation, production quality, style, and knowledge it delivers. So, you can conclude one thing: your content must bring an amazing impression to its audience in order to keep their attention.
The Obvious Advantage
The obvious advantages that video content brings to your online presence start with the versatility the medium brings. It's a format that can be placed in many places. Potential customers often want to see videos about your company before they click through your website. Enticing them with a well-place video will drive them toward the beginning of their customer journey.
Why videos capture an audience
Versatile, portable format
Eye-catching entertainment
Sells without being too salesy
Easily repurposed
Consumers expect them
Creating your Marketing Video
Plan🤔

When creating a video, don't forget its still content, and you'll need to follow the basic rules of engagement. The process should start like any other form of marketing communication — with a brainstorming session and serious consideration to your goal. Do your research just like with any other online content. Who is your audience? Not sure? You need to create a customer persona. How will they find you? It's keyword research time.
Research 📋
Find out which types of videos are popular and well regarded in your industry. While there are similarities between writing a blog post and writing a video script – they are just different enough where you want to approach with caution. You are still telling a story and offering value, so you'll want to craft a solid outline with an objective in mind. Remembering what your intent will be is crucial, but the story is what keeps the viewer entertained and keeps their attention.
Create 🎥

Once you know your objective, it's time to let your creative juices flow to produce fresh, original content.
Start with an outline to keep yourself and your video on track. Flesh out a storyboard that features your narrative and builds interest. You want your viewer to be curious as to what will happen next. But, be mindful of the human attention span. Most videos are between 2 and 5 minutes but keep in mind that the shorter, the better.
Write Your Script. Don't overdo it (you still want it to seem natural) but some light scripting will keep the flow going and still leave room for spontaneity. Your video should be conversational and speak to the interests and needs of your audience. Include points of discussion and transitions from topic to topic as required.
Action! Prepare for your shoot by "staging" your surroundings and removing any distractions. Messy paper stacks or off-putting displays should be put away, so the focus is on what you are trying to say and not where you are. Be conscious of the overall look as your shooting your video. You'll want to practice and read through the script beforehand and do it enough where it doesn't sound like you're reading or even using a script. The point is to come across as honest and sincere. Don't forget that you can always edit any little discrepancies or mistakes, but, of course, you can always reshoot. You've got the power!
Video Creation Tips:
Be cognizant of sound quality
Set up lights
Don't be shaky!
Use captions
Consider including music
Tools and tips to help your online video creation

Music: Music speaks to most of us and is easily remembered. If appropriate, you might consider including a musical score to the background of a clip to give your video more depth and appeal.  You can choose among a variety of royalty-free music scores from online sources like Free Music Archive or FreeSound. Just be aware of what they mean by "free." Most of the music offered on sites like this fall under Creative Commons license but some have requirements for using them (like attribution).
Stock Footage: Depending on how you laid out your storyboard and exactly what look you are going for – additional stock footage can add a professional touch that'll bring the cool factor to your production. There are many online community sites that share free-to-use footage or are royalty free – which means you pay only pay once to use them. Check out Pixabay or  Videezy for HD stock footage and 4K videos.
Editing: There are plenty of free and not-so free online video editors to choose from online or to download. A lot of them have free trials anyway, so you can check them out and make sure you like how it feels. After that, they usually charge a monthly fee and even that is fairly reasonable. Some popular ones you may want to research are: WeVideo; SparkVideo and Magisto
Show it off! Don't let your hard work go unnoticed! It's time to promote it via your website, newsletter, social media, etc. If you'll be creating regular videos, you'll want to set up a company account on YouTube to store them. Luckily all the social media channels are YouTube friendly so that will make it easy to share. Creating a QR code that will link your videos to print collateral is a great way to encourage new viewership to those that haven't found you online yet.